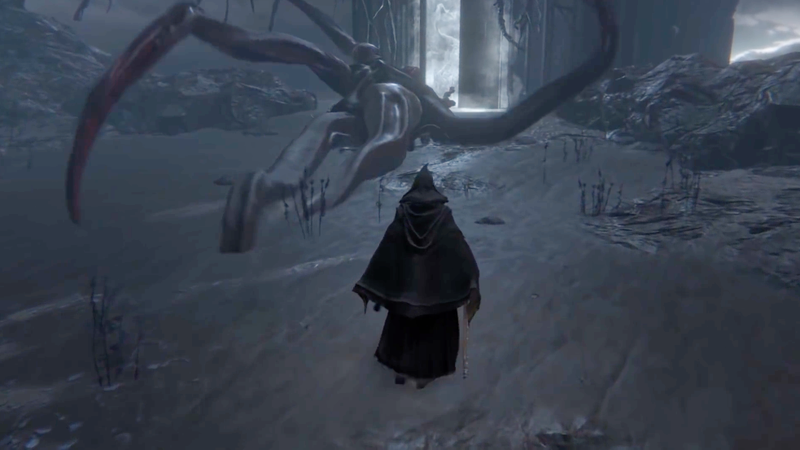 Bloodborne's chalice dungeons offer hundreds of thousands of possible crypts to explore. Dedicated players have found lost enemies and keep looking for more. Thanks to dataminers searching the game's files, a new group of dungeons have been found containing developer test areas and unused bosses.
Bloodborne's Lovecraftian setting is full of creative enemies, from multi-eyed brain beasts to half flayed wolf demons. It's exciting to think about what creatures may still be lurking in the game years later or lost on the cutting room floor. The game's files recently ended up in the hands of dataminers, one of which…
During a recent round table at Namco Bandai headquarters in Tokyo, I asked From Software's Hidetaka Miyazaki about the future of Dark Souls, as well as what else the studio is working on. The good news is yes, a new Armored Core is coming. The bad news is that, at least for the foreseeable future, more Dark Souls is…
Earlier this year, From Software of Demon's Souls, Dark Souls, as well as the upcoming Bloodborne fame was purchased by Japanese corporate giant Kadokawa with Dark Souls' director, Hidetaka Miyazaki, taking on the reins as president of From Software.
Demon Souls and Dark Souls director Hidetaka Miyazaki has been named the president of From Software, the company said in an official release. That's terrific news for fans of those games. Good news for him, too.
Dark Souls was notoriously one of the most challenging games of 2011. It killed players over and over, sometimes rewarding patience and determination in the face of death and failure with yet more death and failure.
The biggest thing Dark Souls (and spiritual ancestor Demon's Souls) has going for it is that it's hard as shit. Suffering through countless deaths to the end is a serious badge of honor. So when the series' director said earlier this week "I am thinking about whether I should prepare another difficulty that everyone…