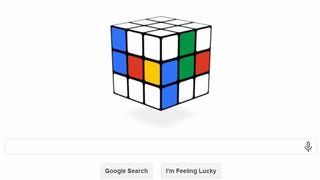 The Rubik's cube was first invented by Hungarian architect Ernő Rubik in 1974. Google is commemorating this achievement with one of its trademark Doodles that lets you play with the legendary toy in the comfort of your own web browser.

Everybody's favorite Time Lord celebrates a half-century of spacetime adventures this weekend. And, just like they did with Star Trek, Google's cooked up a playable birthday card for the good Doctor.
It's Frank Zamboni's 112th birthday! You might wonder who Frank Zamboni is. Have you tried googling it? You could either look him up the usual way, or try out Google's newest playable Doodle.