Last summer, Amazon Japan hired a stable of goats to manicure its lawn. This year, it is hiring even more.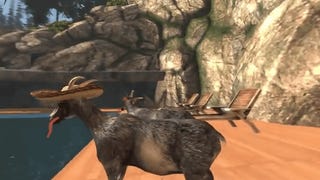 A whole bunch of stuff, like hats and multiplayer, gets added to Goat Simulator today—all for free. While that's cool, you've gotta read how the developers, Coffee Stain Studios, are describing the update.
We know all about humans learning to empathize with goats thanks to the instant classic that is Goat Simulator. But who knew goats could master such a wide range of human emotions? Here's a whole different kind of game of goats. Be careful if you play this one, though. Because when you do, you win or you NEAHHH.