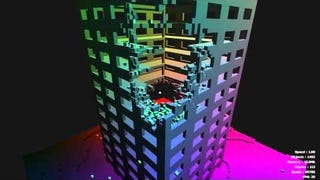 Would a really sweet and totally accurate physics engine really add much to the addictive gameplay of world-carving indie hit Minecraft? Perhaps not, but this build and destroy demo—"Minecraft + Physics!"—according to its creator would certainly make it easier on the eyes.
Introversion Software's port of the award-winning Darwinia comes to Xbox Live Marketplace this week for 1200 Microsoft Points. The abstract strategy game may not be the most graphically impressive of XBLA offerings, but its gameplay is rock solid. [Xbox.com]
In 2008, independent developer Introversion announced an Xbox Live Arcade version of its innovative PC strategy action puzzler, Darwinia. Now Darwinia+ is only a few short weeks away.

For those of you who don't know, Multiwinia is the fourth game developed by Introversion Software. I was a huge fan of Defcon and Darwinia. Multiwinia looks like it's shaping up very nicely. In this video we take a look at the "King of the Hill" mode where players try to control zones.