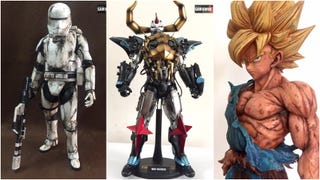 As we've seen before, artist Sam Kwok takes figures and customizes them. The result is very, very good.

The controller customization experts at The Controller Shop asked if we wanted to review one of their magical creations. I said sure. They asked what sort of controller they should send. I left it up to them. Wise decision.
Commenter Balmung of the Azure Sky has been thinking about Pokémon lately, and believes it's high time the franchise gets the modern-day makeover it desperately needs. How would you folks bring Pokémon up to date? Speak Up on Kotaku, I choose you!
Last month's teasing comes to fruition as NCsoft pulls back the curtain on City of Heroes Issue 16: Power Spectrum, putting the power to customize powers in the players' hands.
The characters of Fable 2 are meant to be a reflection of the person playing them, to a point. The choices you make as you grow from childhood to adulthood in the game will change your character's appearance. But, your character is highly customizable. Lionhead Studios says they have tons more clothing to wear (all…