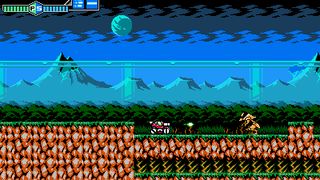 Blaster Master Zero will release on the Nintendo 3DS eshop in Spring 2017 according to an announcement by Inti Creates. The company acquired the license to the original game from Sunsoft and has been working on remastering and expanding it, adding new levels, enemies, etc.
This is Grapple Buggy, shown here in Boston at PAX East by Nathan Fouts, the almost-solo developer behind Xbox Live Indie game Weapon of Choice. You can tell which classic Nintendo Entertainment System games he loves.
Japanese publisher Sunsoft, perhaps best known for its NES release Blaster Master and subsequent sequels, will be resuming operations in North America the company announced today, soliciting a little relaunch help from Gaijinworks.