Another new trailer for the upcoming Super Mario Bros. movie has been released today, part of the onslaught of expensive and lengthy Super Bowl commercials, and while that's usually enough to rot the brains of even the most online among us, I can assure you, this one is fantastic.

Actual Italians Tell Us What They Think About Super Mario
Unlike every previous trailer, which are actual trailers featuring snippets from the movie, this is a new take on the Mario Rap, the classic intro from the Super Mario Bros. Super Show, the live-action series that ran from 1989-1991.
Here, in case you need a refresher, is the original:
And here is the 2023 version:
I haven't called that number because I'm not the in the US, but that website is indeed up and running, and is everything you would hope it would be from a struggling small business servicing the Brooklyn and Queens areas. There's excessive animation, broken image links, a careers page (still under construction, sadly) and even a novelty mouse cursor.
UPDATE: Hahahaha the number works:
Best of all, though, are the testimonials, including one from Spike, who is actually the brothers' boss, and who is making an appearance in the movie (he'll be played by comedian Sebastian Maniscalco).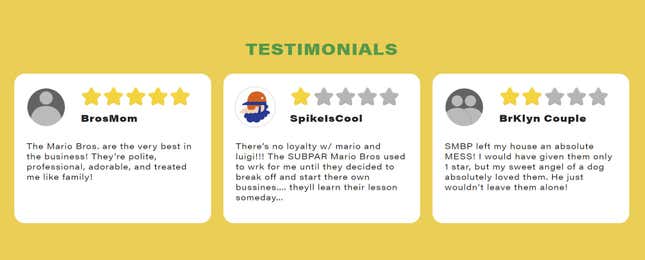 ---
READ MORE: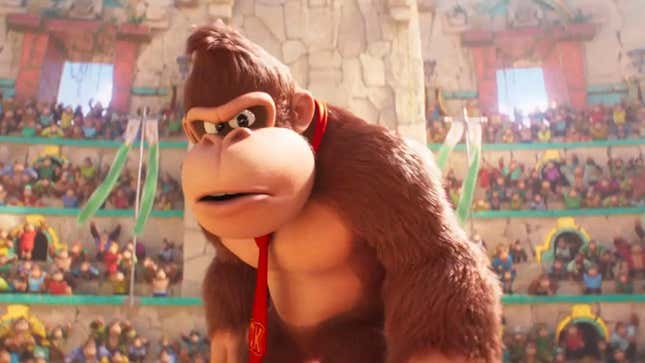 It's weird that one of the things people have been most interested about as far as the upcoming Super Mario Bros. movie is concerned is how everyone sounds. I mean, we know who the cast is, have known that forever, but what we haven't known is the extent to which each actor was going to ham it up.

It's why everyone has been so obsessed with Chris Pratt's Mario, and why Jack Black seems perfect as Bowser because...he's done that voice 1000 times and he was born for the role. One major voice we haven't heard yet, though, is Seth Rogen's Donkey Kong, and it was also one that could have gone in any number of directions.