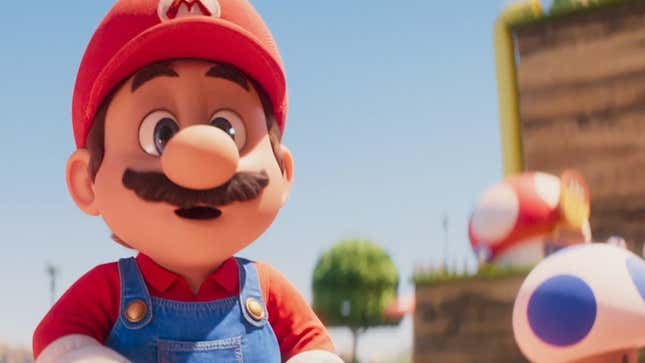 Hollywood was out in full force tonight at Geoff Keighley's Game Awards, but the show's most important appearance, as far as some Nintendo fans were concerned, was the first ever proper clip from the Super Mario Bros. Movie.
Read More: New Super Bros. Movie Trailer Beats The Absolute Shit Out Of Mario
In the scene from the film due out in April of 2023, Toad and Mario wander through a bustling Mushroom Kingdom bazaar, Toad clearing the path by shouting about how Mario's brother is going to die imminently (presumaby at Bowser's hands). The two travel in style at one point on a floating platform not unlike those that are so common in the games, though this version of Mario is quite flummoxed by the process of leaping from one to another. He then comments on the strangeness of blocks just floating in the air and takes a disorienting ride in a pipe (don't worry, Mario, you'll get used to it) and then the two charge toward Princess Peach's castle. And that's it. It is worth mentioning that Chris Pratt can actually be heard doing a little bit of an Italian accent when hopping across the floating blocks. I knew he had it in him this whole time. Grazie.
Actual Italians Tell Us What They Think About Super Mario
Before the clip rolled, Keegan-Michael Key brought the energy back to the low-energy point of the awards show with an informative lecture on Toad's cap-head anatomy, referencing the age-old debate about whether Toad's mushroom-like cap is a hat or part of his head. Unfortunately, it's unlikely to have been settled by Key's comments tonight.
Though the clip was brief, it did debut on the same night that Hideo Kojima announced Death Stranding 2, Hozier graced us with his forest nymph vocals, and a confused Al Pacino did a couple reps with a Game Award. We live in bizarre times.