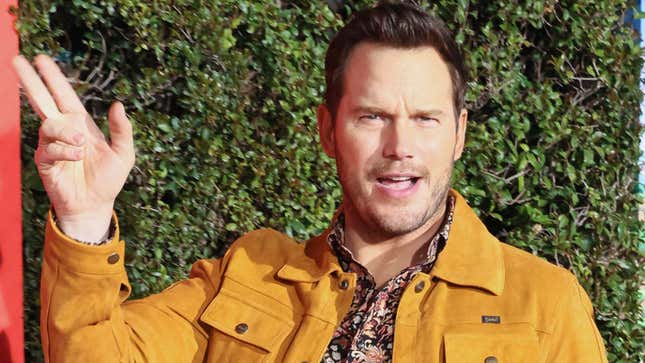 Since the day Mario and Universal announced Chris Pratt was going to voice Mario in the upcoming Super Mario Bros. film, the internet has been in a state of shock, confusion, and anger. Mostly anger. And while there are some legit reasons to dislike Pratt or his casting, the star doesn't seem phased, and even says he understands.
The Super Mario Bros. Movie, hitting theaters on April 5, follows New York City plumbers Mario and Luigi, who end up in the magical Mushroom Kingdom and become involved in a war against Bowser. The upcoming animated flick has a lot of hype surrounding it as we get closer to release. And while the general response to the movie's trailers and marketing has been positive, the feedback from fans surrounding Chris Pratt as Mario has been decidedly more negative. Pratt, it seems, attributes all of this to passionate fans who simply don't want the creators to screw up the movie.

In an interview with io9 published on March 29, Pratt was asked how he felt about the angry backlash around his casting. Pratt, a man with more money than he'll ever need and lots of media training, answered like a pro, dodging the real reasons many were upset and instead suggesting folks just really, really cared about Mario.

"Oh, I totally get [the criticisms and confusion], man," Pratt told io9. "There's a passionate fanbase and I'm one of the fans. I get it. Mostly, people don't want something like this to get screwed up."

Why some people really hate Chris Pratt
That "mostly" is doing some heavy lifting, as many people online were unhappy not just because Pratt is everywhere—in multiple film franchises, including other animated films, like The Lego Movie—or that he doesn't seem like the right person for the role, but also because of Pratt's past and connections to an iffy church, as we explained last year:

But why do some people really hate that Pratt is the new Hollywood face of gaming's number one mascot? Well, it probably has to do with the fact that he's been accused of attending a church (Zoe Church) associated with anti-LGBTQ bigotry of another church it's modeled after (Hillsong). Hillsong has been accused of engaging in gay conversion therapy, and its pastor has said the church doesn't condone a "gay lifestyle."

"His church is infamously anti lgbtq," Elliot Page tweeted back in 2019 when Pratt was showing off his spiritual bonafides on late night TV while shilling for The Lego Movie 2. Pratt responded by saying that "nothing could be further from the truth" and that his church's doors were open to "absolutely everyone."
But according to Pratt, it's mostly just people who are "precious" about the franchise. He added, "They're careful. And I'm grateful for that."

In other news, apparently, Pratt thinks Nintendo published classic Midway arcade game, Spy Hunter, and he wants a movie based on it. Good luck with that one, dude. The Rock tried and failed a long time ago. If you want to hear more from the world's newest Mario, check out the full interview over on io9.