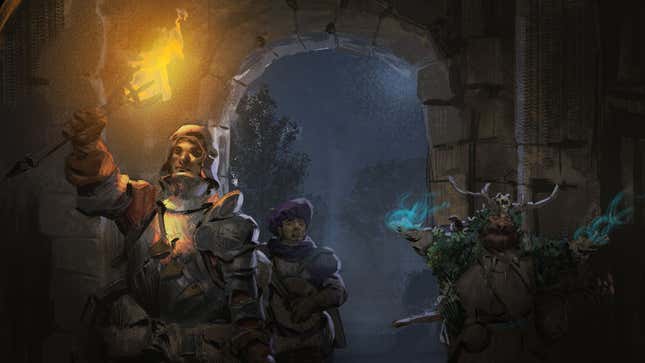 The ongoing saga surrounding the upcoming RPG Dark and Darker continues, as developer Ironmace has turned to torrents for playtesting after being delisted from Steam.

The Top Ten Most Played Games On Steam Deck: March 2023 Edition
It all started back in March, when police raided the Korean developer's office due to accusations from publisher Nexon that the studio founded by ex-employees stole assets and staff from the company for Dark and Darker, and that the game heavily resembled a working project underneath the publisher with the working title P3. According to Nexon's lawyers, this extended to "major gameplay, rules and arts." Shortly after, Dark and Darker was pulled from PC gaming platform Steam, and there was a short-lived GoFundMe campaign from the developers to raise money for the project. Now, without a storefront to work with, it looks like the team has turned to torrents to distribute the game for playtesting.
In a post on the official Dark and Darker Discord (reposted on the game's subreddit), the team lays out instructions for those interested in participating in the fantasy RPG's latest alpha test to download the client through torrents. While the studio is based in Korea, Ironmace says it's unable to service the playtest in the country in compliance with its game rating regulations since the alpha playtest is being distributed through unofficial channels.
"Rest assured that we are working around the clock to safeguard the continuance of Dark and Darker," the post reads. "Unfortunately, due to the complexities of our situation, especially across international lines, it is taking time to resolve the Steam situation. In order for us to keep our promise to our fans we've had to go old school this time."
While it's not illegal to torrent something (pirating and torrenting are two different things often used interchangeably) because the practice is used so often in piracy and other forms of illegal file distribution, it's not quite as regulated as something like Steam or the Epic Games Store. Because of this, Ironamce warns players of torrenting Dark and Darker through any other source, as it may contain files harmful to someone's computer. The team also plans to release updates through this method, for the time being. It's unorthodox, but with the project in such a precarious situation and the team apparently being unwilling to drop the project, that's one way to get it out there.
The Dark and Darker alpha test will end on April 19.