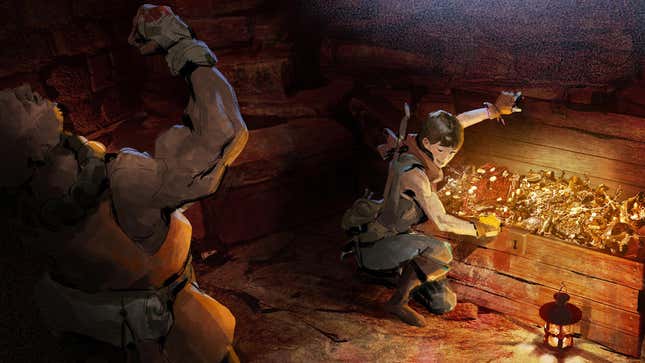 Following a police raid of its offices and a delisting from Steam, Ironmace, developer of the upcoming MMO Dark and Darker, is once again at the center of confusion and chaos. This time, miscommunication and a false launch of a now-pulled GoFundMe campaign continue to make the whole ordeal a big ol' effin' mess.
The Top Ten Most Played Games On Steam Deck: March 2023 Edition
Back on March 8, we reported on the police raid that hit Ironmace's Seongnam, South Korea offices. Nexon (publishers of MapleStory and co-owner of Korean publishing rights for Final Fantasy XIV) had accused Ironmace of stealing "thousands of files, including the source codes and builds" for an unreleased game, and repackaging it as Dark and Darker. Ironmace has also been accused of coaxing Nexon employees to jump ship and work on that fantasy MMO. Nexon submitted a DMCA takedown notice to Valve to demand Dark and Darker's delisting from Steam, stating that the game "appears to have been built and developed using trade secrets as well as copyright information copied and stolen from Nexon." It was enough to see the game removed from Valve's marketplace, leaving Ironmace and Dark and Darker in a nebulous state. Now Ironmace has taken to the game's official Discord to fire direct accusations back at Nexon,. and kicked off a confusing new ordeal involving a GoFundMe to help the studio "through this bullshit."
Ironmace turns to fans for financial support
As reported by IGN, "Luci," an Ironmace developer, took to Dark and Darker's official Discord to fire some shots back at Nexon and plead for help from the server's tens of thousands of fans. His comments have since been removed, but are archived on the game's subreddit. In the statement, Luci accuses Nexon of using its size and resources to target Ironmace unfairly.
The reality of the situation is that [Nexon's] end goal is to bleed us dry in court fees. Internally, we know this, they know this, the lawyers know this. They have no real case that will hold up in court but they pray that we fold. Our concern is not the false claims [of theft] that they have weaseled up and fed to every media outlet. Our game was made from scratch. But we are concerned about being able to support ourselves through this legal battle that they want to drag us through.
They concluded with a request for some cash to fund Ironmace's legal fight. Luci shared a GoFundMe link that has since been taken down, but is reported to have raised at least $30,000 while it was live.
But the story doesn't end there, folks. While it seems that Ironmace did intend to solicit funds from fans, Luci may have jumped the gun.
Ironmace gives conflicting messaging about GoFundMe
What followed was a bit of a shitshow. First Ironmace deleted Luci's post. Then other admins came in to announce that "LUCIS ACCOUNT COULD BE COMPROMISED." That sounds scary, but they walked back that claim shortly after.
You can peruse a timestamped play-by-play of the full Discord drama in the Reddit post documenting the whole nightmare (grab some popcorn first). But eventually Graysun, another admin on the Dark and Darker Discord server, claimed that while "the GoFundMe link [was] legitimate," the studio had actually hoped to launch it later. Graysun said:
[The GoFundMe link] was posted this morning without approval due to a passionate member of the team taking matters into his own hands. We have currently paused the campaign for now as it was prematurely announced…We will make another announcement on how the GoFundMe will be handled.

Sdf, another admin on the Discord, cautioned fans eager to help out Ironmace to "beware of scams that exist online, and never donate. Our official fundraiser page is currently paused until further notice so any public donation pages should be taken as a scam." Naming another server admin, they said, "Terry or I will announce when our official donation page is live. We are very sorry for the confusion caused by our mistake."
From what's been documented by the now-removed GoFundMe page, Ironmace was seeking to raise $500,000 to support its efforts to continue paying its employees' salaries and to survive the legal battle with Nexon.