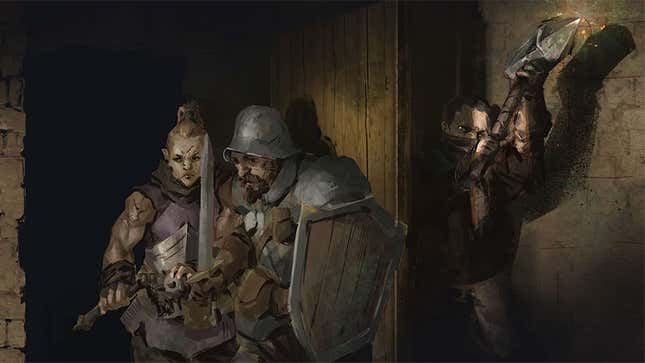 The offices of Ironmace, a development studio in the Korean city of Seongnam, were raided by police earlier this week after accusations were made that the company's upcoming game, the MMO Dark and Darker, didn't just steal assets from publishing giant Nexon, but the staff working on a project there as well.

This Mini Sega Arcade Cabinet Packed With Retro Games Would Make A Great Gift
As the Korea Joongang Daily (the English-language version of Korea's JoongAng Ilbo newspaper) reports, the story begins back in August 2021, when a former Nexon developer was caught leaking "thousands of files including the source codes and builds" for a game with the working title of P3.
Nexon's legal team says "We also found that [theaccused] had suggested to teammates of the P3 project that they quit the company and work together on a game similar to P3, citing outside investment sources and more."
This employee was quickly fired by Nexon, but two months later, in Octoboer 2021, Ironmace was founded. The KJD reports that "half of the 20-person P3 team quit Nexon and joined Ironmace", including the developer originally caught and fired for leaking the files, and the team began work on Dark and Darker.
Nexon's lawyers say Dark and Darker has "striking similarities with the concept for P3 in major gameplay, rules and arts, which could not have been made independently", and that as a result of the alleged theft their own game "couldn't see the light of day due to unethical actions from former colleagues".
While Nexon clearly feel there is a criminal case here, it should be noted that Ironmace's studio website opens with:
We are a merry band of veteran game developers disillusioned by the exploitative and greedy practices we once helped create. We are experts who have worked on many of the biggest hits in Korea.​

We've seen first hand how corporate game companies sell their soul for the easy payday. We are disappointed to see them doubling down on more and more exploitative practices, becoming more like casinos instead of bringing joy to gamers.​

We're fighting to win back the hearts of gamers around the world. We believe that by creating games with soul, and by respecting our users we can usher in a renaissance of awesome video games direct from Korea.
And that Ironmace has already responded, saying
Do not worry too much about what you hear regarding Nexon. Most of what you will see on the internet is not accurate. There will be no delay in development, and there is nothing to worry about.
Legal action pending, Dark and Darker is supposed to enter Early Access in April, with a full release later in 2023.