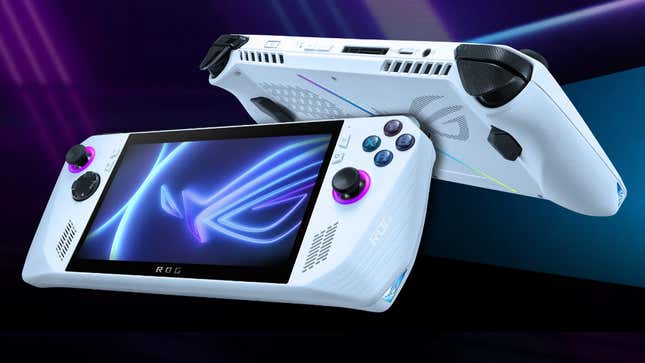 When the Asus ROG Ally windows PC gaming handheld was originally revealed, it seemed like just another quick cash-in on the popularity of the Steam Deck. The specs turned out to be quite impressive, however, and now the price looks almost too good to be true. The Verge reports the Ally will only cost $700, just $50 more than the most expensive version of Valve's handheld.
The Top Ten Most Played Games On Steam Deck: March 2023 Edition
Now I know what you're thinking: only $700? That is a lot, but not for what the Ally is promising, which includes a Windows 11 operating system. PC gaming aficionados previously estimated it would cost as much as $1,000. They were surprised when the company teased that it would come in even lower, and now a combination of leaked ads and The Verge's own reporting seems to confirm this wasn't mere bluster. The $700 price, if accurate, is for a version running an AMD Z1 Extreme APU. A lower spec'd Ally could cost even less, potentially within range of the cheapest $400 Steam Deck.
The most expensive Steam Deck with 512GB of SSD storage is $650. The $700 Ally has the same amount of storage and 16GB RAM, but surpasses Valve's device on a number of other fronts. They both have 7" inch screens, but where the Steam Deck is 1280 x 800 resolution at 60Hz, the Ally is 1920 x 1080 resolution at 120Hz. The Steam Deck has a Zen 2 processor compared to the Ally's Zen 4, and an RDNA 2 graphics unit compared to an RDNA 3. Despite all of this, the Ally is somehow 61 grams lighter than the Steam Deck.
While hands-on impressions among tech journalists have been generally positive so far, the one remaining question is whether all of these advantages will come at the cost of the Ally's battery life. A PC gaming handheld isn't much good if it loses juice inside of an hour, and given the specs for the apparent price, something's gotta give somewhere, right? Even the Steam Deck is a power hog at higher settings with more demanding games.
The Asus ROG Ally Z1 and Z1 Extreme models will be revealed in full on May 11. In the meantime, the new arms race around handheld gaming just got real.