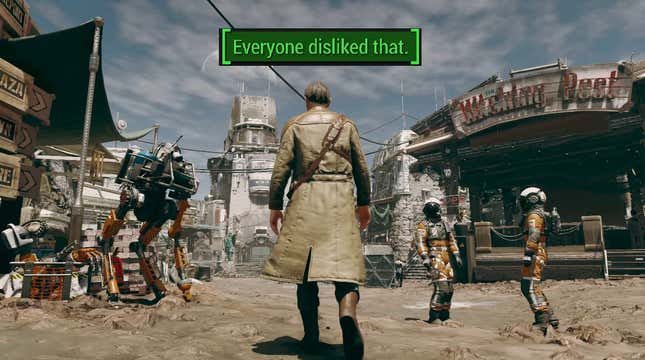 Starfield could be the biggest PC game of the year. It also might be heading for a lot of unnecessary annoyances on that platform. Bethesda revealed an exclusive PC partnership with card maker AMD, causing a mini-revolt among PC gamers in the process over concerns the massive open world RPG will face stuttering issues and not support competing features like DLSS and XeSS as a result.

The Week In Games: What's Coming Out Beyond Starfield
"We've built all new technology for [Starfield] with Creation Engine 2 and working with AMD on that to make it look great and run great has been really really special, " director Todd Howard said in a promotional video for the collaboration posted on YouTube. "We have AMD engineers in our code base working on FSR2 upscaling and image processing and it looks incredible." Weirdly, the announcement was light on specifics, including framerate targets on PC and details about ray-tracing support.
The response was swift and mostly unanimous. The video has 2k downvotes on YouTube, about twice the number of positive reactions. Why is everyone so down on the announcement? Historically, exclusive deals like this have locked games out of support for competing features like Nvidia's DLSS (Deep Learning Super Sampling) and Intel's XeSS (Xe Super Sampling). Both technologies render games at lower resolutions and then use machine learning to upscale them. This then frees up resources to improve performance in other areas, like framerate.
Both are largely considered to be better than the AMD version, called FSR (FidelityFX Super Resolution), providing better overall image quality, especially at lower resolutions. But the bigger issue is players with the wrong GPUs missing out on these upscaling tools altogether. Some games support all three, letting players choose what they use based on what their PC builds, but an exclusivity deal with AMD has generally meant that only FSR is supported.
We don't yet know if that's the case here, but that's what most players are assuming, alongside broader worries that this means performance won't be optimized across as many builds. It's the PC gaming version of games optimized for one console over another, with makers like AMD hoping the exclusivity partnerships will make it easier to cash in on players looking to upgrade ahead of a big new release like Starfield.
"DLSS is massively superior to FSR 2, so I don't understand why Microsoft / Bethesda would sign a deal that will lock DLSS out of Starfield," The Verge's Tom Warren tweeted. "These deals are simply anti consumer and won't help AMD sell GPUs. Build a better product instead."
"If anyone at Bethesda is watching, please ensure that DLSS and XeSS are supported," tweeted Digital Foundry's John Linneman. "Don't make this another one of those AMD games with lacking features." Fans on the Starfield subreddit were similarly perplexed, and even AMD's own post about the partnership was filled with naysayers in the comments.
Really, what's the point of spending $1500 on a gaming PC vs. just $500 on a console if you aren't getting every bell and whistle when it comes to a 1,000 planet-spanning adventure like Starfield?