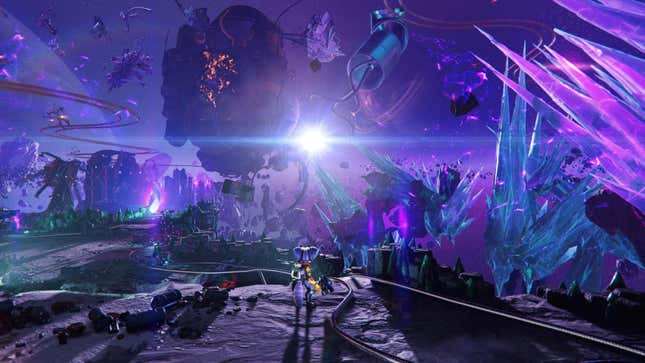 Ratchet & Clank: Rift Apart will soon be available to play on PC, marking the first time Sony's 21-year-old action platformer series can be played with a mouse and keyboard. The port will release on July 26, but you can already pre-purchase it for $60 on either Steam or the Epic Games Store.
The Witcher 3 Meets Tense Roguelike PvE Card-Battling In Rogue Mage
According to a PlayStation blog posted on May 30, just like on PS5, "the PC version of Ratchet & Clank: Rift Apart features ray-traced reflections" in addition to "newly added ray-traced shadows for natural light in outdoor areas." It will be modified to the highest of PC nerd standards, said Julian Huijbregts, online community specialist at Dutch developer Nixxes Software, which is working with Insomniac Games on the port.

Along with improved ray-tracing, the Rift Apart port will feature support for up to 48:9 resolutions and have "gameplay and cutscenes [...] optimized for ultra-wide screens," Huijbregts said. For graphics upscaling, players will be able to choose from NVIDIA DLSS 3, AMD FSR 2, Intel XeSS and Insomniac Games' Temporal Injection. Latency-improving NVIDIA Reflex and NVIDIA DLAA, which boosts image quality on truly almighty GPUs, will also be supported.

Those who pre-purchase the game get to unlock both the Pixelizer Weapon and Carbonox Armor set early, just like they could during Rift's original 2021 pre-order cycle for PlayStation. Otherwise, the game will have what you expect from all PC ports—full, customizable mouse and keyboard support and DualSense controller compatibility.

Personally, I think Rift Apart is a goofy, surprisingly gorgeous game, and I'm really hoping that translates well to PC. Likewise, in a Kotaku review, writer John Walker said that Rift Apart is "brain-dazzlingly stunning."

"With the paucity of new-generation releases and the focus on rendering grim-dark frowning human faces, seeing what the PS5 is capable of here is a revelation," he says. The voice acting "is great, giving this the usual Ratchet & Clank feel of a big budget movie, and the gags hit well." Plus, there's a girl in it. This is the game of a generation.