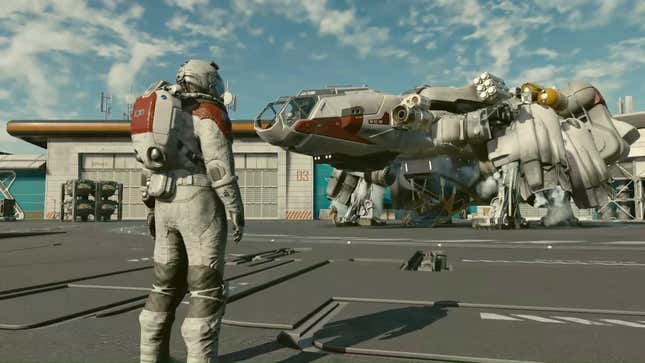 Bethesda is known for making some of the most ambitious and immersive open world role playing games ever. But it also has a reputation for games that struggle with long lists of bugs or performance issues at launch. Xbox Game Studios boss Matt Booty doesn't think that will be the case this time around with Starfield, which apparently has a shorter bug list than any other Bethesda game ever.
The Open World Racing Game That's Been Gone For A Decade Is Coming Back
"We have an awful lot of people internally playing Starfield, working with Todd [Howard] and the team," Booty said during a June 11 interview with Giant Bomb. "I see bug counts and just by the numbers if it shipped today, Starfield would already have the fewest bugs of any Bethesda game ever shipped." Microsoft Gaming CEO Phil Spencer added that every quality assurance tester "in our entire company" is currently playing the game and reviewing issues with a couple months still to go before release.
A massive game with giant cities to visit and a thousand planets to explore, Starfield could be forgiven for coming out on September 6 with some issues. There are hundreds of thousands of words of dialogue to coordinate across branching quests, resource collection and base building to manage, first-person shooting and character upgrades to balance, and even ship combat and your own personal crew to account for. One GIF on Starfield's Steam page already shows a player character's hand clipping through a gun rather than holding it by the grip.

But there's a difference between encountering a few hilarious glitches or occasionally getting snagged on varied environmental terrain. The Elder Scrolls V: Skyrim on PlayStation 3 specifically and Fallout 4 in general both had a fair number of problems to overcome when they originally debuted, from framerate slowdowns to broken quests that were impossible to complete. Even later special editions for older games were hardly perfect at launch.
Bethesda's last major game, Fallout 76, was perhaps the most notorious of them all when it comes to bugs. A traditional story-based campaign complicated by persistent online multiplayer, it was busted at launch and took months of massive patches to stabilize things. One launch issue was randomly deleting players' files for the beta access period, while some updates seemingly broke as many other parts of the game as they fixed.
It's good to hear that won't be the case again this time, though I won't be entirely convinced until the game is out and we can test it for ourselves. Creative director Todd Howard recently confirmed that Starfield will be locked to 30fps on console, saying they wanted to keep the experience as consistent as possible even though the game can frequently hit higher framerates. "Fortunately in this one, we've got it running great," he told IGN in an interview.
Apparently that's even the case on the less powerful Xbox Series S where he plays most of his games since his kids won't let him use the family Xbox Series X. I hope he's right.
---
Kotaku is covering everything Summer Game Fest, from the main show on Thursday to other events happening throughout the next week. Whether you're into larger-than-life triple-A games or intimate, offbeat indies, you can keep up with all things SGF here.