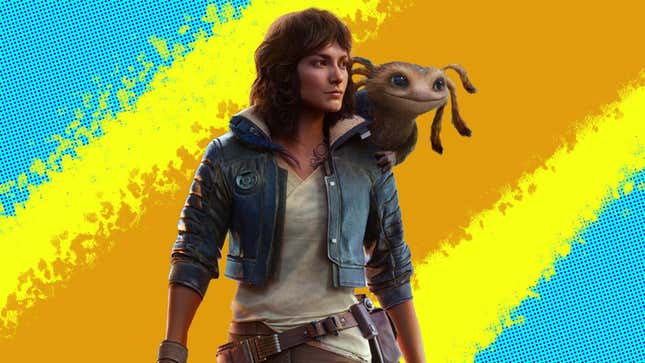 Ubisoft's open-world Star Wars game is one of the most hyped titles to come out of Summer Game Fest 2023, with its GTA-eqsue gameplay intriguing players, its sexy droid turning them on, and its woman protagonist making chuds very, very angry.

The Week In Games: Galactic Refugees And Stone-Age Life Sims
After Star Wars Outlaws was revealed during the Ubisoft Showcase, some Gamergate-adjacent gamers took issue with its protagonist: a woman of color named Kay Vess, portrayed by Venezuelan-born actor Humberly González. Some begged Ubisoft to let them switch to a male character, as they've waited years for an open-world Star Wars game and couldn't bear the thought of navigating through it as a woman. Others lamented the lack of lightsabers and men, and said "no thanks" to the concept of anything else.

Meanwhile, Star Wars Jedi: Survivor is right there, brand-new and playable and featuring a male protagonist. But Kay Vess represents a much larger issue within gaming and the Star Wars universe, and her role is a crucial one.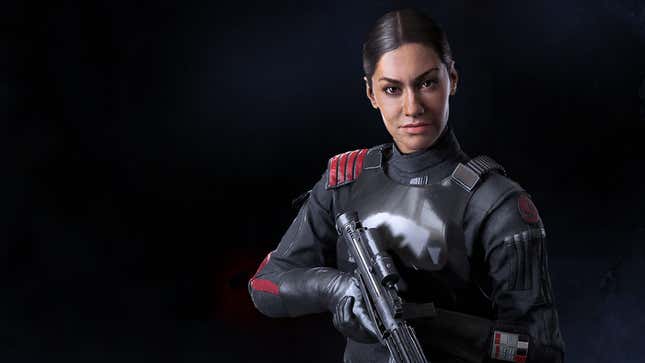 Star Wars video games and women
Star Wars Outlaws falls into one of the more unfortunate center rings on the Venn diagram of bad actors: gamers and Star Wars fans. This is a franchise still reeling from the Mary Sue allegations and general hatred thrown at Rey, the lead in the sequel trilogy. And as mentioned, the vestiges of the Gamergate hate campaign linger throughout gamer culture. As such, the backlash should be expected, even if it is exhausting.

Aside from Battlefront II, which features Iden Versio as its main protagonist (though there are missions where you play as Luke Skywalker or Han Solo); Jedi Knight: Mysteries of the Sith, an expansion for Dark Forces II that features Mara Jade as its star; and Star Wars: Jedi Starfighter which has Adi Gallia as its lead (though it takes place almost entirely in the cockpit of a ship); there are no other Star Wars games that lock you in as a female character.

But there are plenty of them that make you play as a male character, from the wildly popular Star Wars Jedi games to the Force Unleashed series and all the movie tie-ins in-between. Or, they let you choose between male and female characters, whether it's the Lego games, a handful of Star Wars Episode I spin-off games, or Knights of the Old Republic and other MMOs. As you can imagine, that choice often keeps misogynists quiet.

But Kay Vess is the female version of many Star Wars characters: A rogue, a rebel, a scoundrel, and a rapscallion, she could easily step into Han Solo or Cassian Andor's boots. She's got an adorable companion creature, just like Jedi: Survivor's Cal Kestis, and she's got that smirky sass that makes so many other Star Wars scumbags so loveable. On paper, she's the perfect lead for an open-world game about outlaws—it's just the fact that she's a she that's the problem.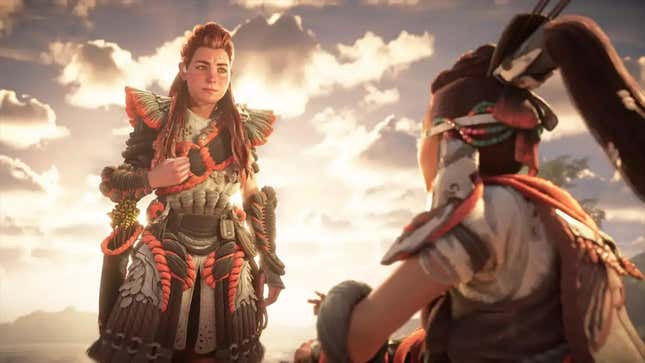 Women in games at Ubisoft and beyond
Though it's unsurprising that a woman-led game would receive backlash even now, this particular backlash is largely due to the lack of female protagonists across modern gaming. Think of every game that has won Game of The Year at Geoff Keighley's Game Awards: Only two of them featured women protagonists, and they both shared the bill with men (The Last of Us Part II and It Takes Two). The others either had male protagonists, like God of War, Sekiro, The Witcher 3, and The Legend of Zelda: Breath of the Wild, or they had characters you could completely customize, like Elden Ring and Dragon Age: Inquisition.

Aside from the Horizon series, which got backlash for giving protagonist Aloy realistic peach fuzz because men don't know everyone has a thin layer of hair covering their entire bodies, you'd be hard-pressed to find an AAA game led entirely, singularly, by a woman. The Lara Croft series, sure, but even she had to go through a character rework to differentiate herself from her polygon-titted '90s counterpart. And Metroid Prime Remastered's Samus is almost always in a full suit of armor, so it's easy to forget that her franchise is led by a woman.

Ubisoft has, historically, had its own problem with centering women protagonists, as well as a sordid trail of sexual misconduct claims directed at its executives. As Polygon reported back in 2014, the company abandoned female protagonists in Assassin's Creed Unity, essentially saying that they weren't worth the additional work. "It's double the animations, it's double the voices, all that stuff and double the visual assets," then-creative director Alex Amancio told Polygon. "Especially because we have customizable assassins. It was really a lot of extra production work."

And as Bloomberg's Jason Schreier detailed back in July 2020, Ubisoft's reported issues with how it treated women employees bled into its inability to center female protagonists. Assassin's Creed Syndicate, Origins, and Odyssey were all meant to heavily feature women leads, but as their production advanced, their roles shrank. With Odyssey, Schreier reports that "the team originally proposed making the sister the only playable character, according to four people who worked on the game, until they were told that wasn't an option."

So while it's unclear if the reported internal issues at Ubisoft have been resolved, the centering of a woman character in a Star Wars game is a breath of fresh air, both for games within the sci-fi/fantasy franchise and games made by the studio. Kay Vess represents something much bigger than just a new character in an open-world Star Wars game: She is a woman of color in a world historically devoid of them, created by a studio notorious for shrinking its female characters. Kay Vess is, hopefully, a sign of greater things to come from both Ubisoft and Star Wars.

Star Wars Outlaws is due out sometime in 2024.