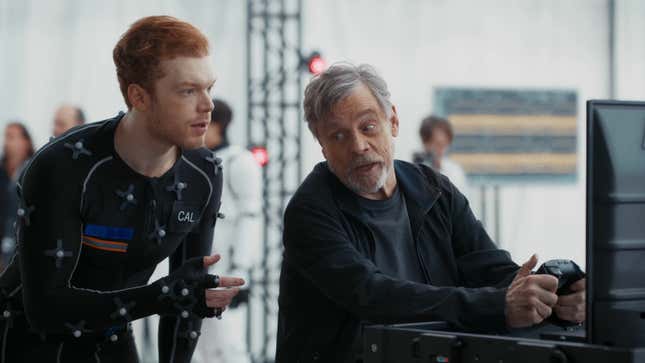 Star Wars Jedi: Survivor is almost here. The highly anticipated sequel arrives April 28, and to help you all get more excited (and to help Survivor lead Cameron Monaghan), Mark Hamill, aka Luke Skywalker himself, is here to offer some advice on how to be a Jedi. I'd listen to the man. He has some experience with lightsabers and the Force.
10 Creatures We Wanna Ride In Star Wars Jedi: Survivor
Out Friday, Star Wars Jedi: Survivor is the follow-up to 2019's Fallen Order. Like it, Survivor is a third-person action-adventure starring Cal Kestis, a Jedi who survived the purge during the Clone Wars and is now on the run from the Empire alongside a ragtag group of friends, including a Nightsister and another former Jedi master. This new game is set five years after the events of Fallen Order and about a decade after Star Wars: Episode III - Revenge of the Sith. So while Luke Skywalker is alive, he's still a young boy on Tatooine under the watchful eyes of Obi-Wan Kenobi. But, just because Skywalker (likely) won't appear in the new game, that doesn't mean Mark Hamill can't stop by to help Survivor's star with a few pointers on being a Jedi.

In a new trailer EA released April 27, we see Hamill helping Cal Kestis actor Monaghan with how to be a Jedi. He shows him the proper way to do a Mind Trick, motivates him on how to deal with a Wampa while upside down and reminds him that a Lightsaber ain't a baseball bat.
Normally I'd not pay much attention to marketing fluff like this. But as a big Star Wars nerd and fan of Hamill, I can't help but smile. I especially love how angry and disappointed Hamill acts when he learns that Cal gets two(!) lightsabers. The best moment though is at the very end, when Monaghan is trying to tell Hamill how to use the Force while he plays Survivor and the elder actor snaps "I really don't need you to explain the Force to me." Fair enough!

I was already excited to play this game before Hamill showed up in this commercial. But between the very strong reviews, including our own, and my overall love for all things Star Wars, I'm counting down the hours until I get to play this next adventure from Respawn and Lucasfilm. Until then, I'll probably give this another watch or two. Or three…