A Winter Tails | Sonic and Tales have a snowball fight in this sculpture created by @BlueSonikku for Sega of America.
---
Everybody games. (Finally!) With a million different types of gamers, there are a million types of gifts to be bought. This year, rather than going very broad, we've tried to offer up a few specific different archetypes, the better to actually help you find something for the person you love.
We're... More »
G/O Media may get a commission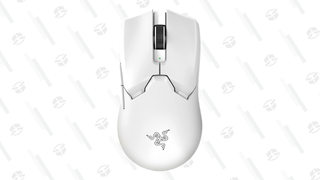 15% Off
Razer Viper V2 HyperSpeed Wireless Gaming Mouse
Pro gaming
ses a focus pro 30k optical sensor for unreal accuracy, is only 59g which puts little-to-no pressure on your wrists and allows for faster response times and longer sessions, has switches that last for 90 million clicks, has an absurdly fast wireless connection, and a battery life of up to 80 hours.
---
Last week, the People For the Ethical Treatment of Animals, PETA, ticked off a lot of people who like video games. But maybe the gamers shouldn't have been so upset about that whole "Mario Kills Tanooki" thing?
On one side we had the notorious animal-rights rabble-rousers complaining that Super... More »
---
There are millions of people who enjoy playing Super Mario games that are three dimensional, games you play from behind Mario's back.
But there are millions more who enjoy playing 2D Super Mario games, games that show Mario from the side. More »
---
In the latest mash-up of the Pepper Spray Cop image that came out of the Ocupy UC Davis protests, Lt. John Pike finds himself on Mars on the cover of id Software's classic first-person shooter DOOM. More »
---
Wouldn't it be nice if you could rent an iPad filled with nifty Gameloft-brand game product to keep you occupied during lengthy flights? Next month customers of Australia's Jetstar will find out first hand. More »
---
Contrary to what the title led me to believe I was not instantly transformed into an artist upon starting up uDraw Studio Instant Artist, the pack-in software for THQ's new uDraw Tablet for the Xbox 360. More »
---
It's the day before Thanksgiving, so, if you're in America, you should be heading somewhere to start your Thanksgiving festivities. But stop by the comic shop first, or at least check out the new comics you can get for download. More »
---
Call of Duty's online Elite service is just about fully functionally, with the first episode of Friday Night Fights set to hit this week and the mobile version releasing as early as next week, Activision says.
"We changed our status to green yesterday," said Daniel Suarez, vice president of... More »
---
Seamless Entertainment's upcoming space combat sim SOL: Exodus is a game built for the most dedicated fighter pilots; the kind that long for the days of Wing Commander and Freespace, Privateer and X-Wing Vs. More »
---
There was a collective sigh from the JRPG faithful when Square Enix announced Final Fantasy XIII-2 earlier this year. Some wanted more FFVII or more Kingdom Hearts. More »
---
We like tips!
Got tips for our editors? Want to show the world your latest creation? Ready to anonymously share an unannounced game? Email us at tips@kotaku.com. Or leave us an anonymous voicemail at (612) 568-2581.
Want a different layout?
Click here for the Speak Up or Tips forums. Want a more "blog-like" look? Click the button up top next to "Top Stories."
Get more Kotaku!
Want even more Kotaku? Want to know which of your friends read us? "Like" us on Facebook and follow us on Twitter.