This week on the season finale of Retro Game Master the Kacho takes on Golden Axe.
Released in 1989 by Sega for the arcade, this high fantasy side-scroller beat 'em up later made its way to a number of different consoles. In the game players take on the role of a dwarf, a barbarian or an amazon as they journey through the world on a quest to kill Death Adder.
This first official U.S. airing of the show, known as Game Center CX in Japan, uses dubbing for the announcer's voice and English subtitling for Arino's.
Retro Game Master airs weekly on Kotaku at 8 p.m. eastern on Thursdays. The show and Kotaku reruns will remain on the site for viewing at your leisure throughout the season. Licensing prevents the show from being seen outside of North America.
Don't forget to expand the video above to watch it full screen!
---
G/O Media may get a commission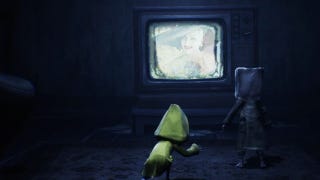 Horror Video Games to Play Leading Up to Halloween
Spooky and scary
Something video games have over their film counterparts when it comes to horror is the player's agency. Sure, watching the slasher claim their next victim can get a jumpscare out of you, but you know what's scarier? Knowing you had the power to stop it. Watching someone slowly open a door and enter a dark room is unnerving, but having to do it yourself will send shivers down your spine and paralyze you with fear.
This week on Retro Game Master the Kacho takes on 53 Stations of the Tōkaidō.
Released in 1986, Kantarō no Tōkaidō Gojūsan-tsugi is based on a famous set of ukiyo-e wood prints. More »
---
This week on Retro Game Master the Kacho takes on Battle Golfer Yui, a golf game that it is more than it seems.
Launched in 1991 in Japan, Battle Golfer Yui follows the exploits of two normal high school girls who are drafted into a tournament thanks to their exemplary golf skills. More »
---
In this eighth episode of Retro Game Master, our game-testing everyman, Shinya Arino, faces off against S.O.S.
S.O.S. was developed by Human Entertainment for the Super NES in 1994. More »
---