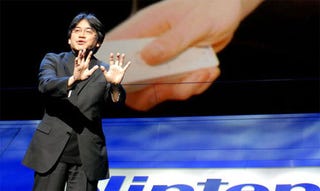 Nintendo executives were reportedly given the option to snatch up the technology that powers Microsoft's controller-free Project Natal but passed, worried that the camera tech was too expensive and not responsive enough for the Wii maker.
CVG cites an anonymous source at Nintendo—specifically "a top insider (and we mean top insider)"—as saying that Nintendo bossman Satoru Iwata saw the tech that powers Natal at the end of 2007, but didn't bite.
That insider also sounds skeptical about Microsoft's promises for Natal, saying that the Nintendo "remain unconvinced Natal will deliver on the more sophisticated elements of what Microsoft is promising at the price they're aiming for."
Nintendo of America president and COO Reggie Fils-Aime told Kotaku last year that the company was "very familiar with that technology" and that he had "personally seen a lot of iterations of similar technology."
With Xbox 360's Natal tech reportedly whittling down its hardware specs and consuming some 10% of the console's power, we can easily see this from Nintendo's perspective.