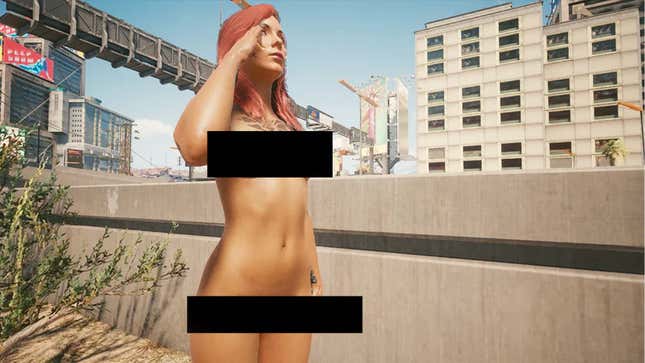 Open-world sci-fi RPG Cyberpunk 2077's biggest subreddit recently switched to NSFW (not safe for work,) with the explanation that the game it is focused on is a mature game filled with nudity and gore. However, Reddit allegedly demanded that mods of the subreddit quickly revert the change. The mods aren't complying and users are now posting nude images of in-game characters as part of a protest to show why the subreddit deserves to be NSFW.
Cyberpunk 2077's Phantom Liberty DLC Probably Won't Change V's Fate
Since May, Reddit has been at war with its users and subreddits as the company clamps down on third-party apps and their ability to access the site's backend or API. It's not gone well for Reddit, leading to popular subreddits like r/bestof, r/sports, and r/music going dark. And as part of this ongoing backlash, some subreddits switched to NSFW. This designation is reserved mainly for porn-y subreddits and blocks ads from appearing, but also lets users freely post nudity and more adult content. Some mods and subreddits have used this designation to punch back at Reddit and its despised CEO. Now the Cyberpunk 2077 subreddit has seemingly wandered into this mess.

According to a post from July 5 by moderator Tabnam, the decision to make the Cyberpunk 2077 subreddit NSFW was made because the game is "an 18+ game" and happened now because the mods had "never thought to change it until recently". Tabnam added that this subreddit should have already been NSFW. This decision apparently didn't go over well with Reddit.

"The infamous Mod Code of Conduct messaged us, demanding we switch back, because '[Your users are] likely confused by all the NSFW content you've been seeing'. They didn't allow us to reply, so we couldn't explain that this is a subreddit for an 18+ game, nor has any of our content changed," Tabnam wrote.

"Until we change it back we're in violation of Reddit's sitewide rules," wrote Tabnam. "We're not going to change it back, because this is a sexually explicit game, and also fuck them." Kotaku has contacted Reddit for comment.
Cyberpunk 2077 players are posting digital nudes to make a point
As part of this ongoing fight with Reddit, Cyberpunk 2077 players have begun flooding the subreddit with loads of NSFW content in an attempt to prove why the subreddit needs to be categorized as such—and also to thumb their noses at a company that continues to squeeze its community tighter and tighter, killing one of the last good parts of the web in the process.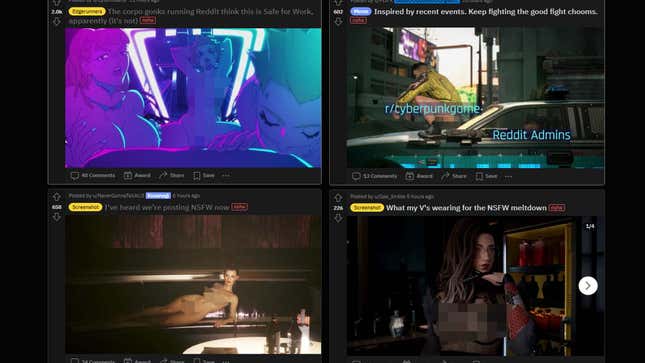 As of July 6, the subreddit is chockablock with boobs and cock. Some of these screenshots containing nudity come from the game, while other images are fan art of the popular open-world RPG or its related anime spin-off, Edgerunners.

It's a buffet of NSFW content over there. So, and this really goes without saying, if you are at work or standing near random people on a subway car, maybe don't check the Cyberpunk 2077 subreddit today. Or do. I'm not your dad.

And as for the mods of the subreddit, they say that if they get removed by Reddit they at least "got to go out on a fantastically fun flair event" and added that if the subreddit changes back from NSFW "then [you'll] know [we're] no longer in control of it."