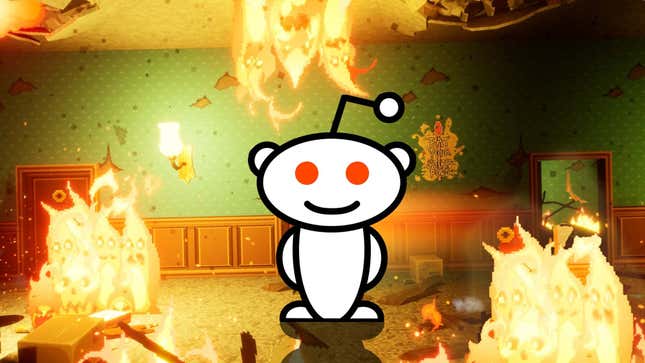 The last couple of weeks have not gone well for Reddit, the news aggregator and community platform popular with gamers. Following drastic changes to the site's functionality and a massive blackout organized in protest, CEO Steve Huffman is now saying that everything Reddit is going through will pass and none of it hurts one bit.

The 3 Best And 3 Worst Korok Challenges In Tears Of The Kingdom
Read More: Reddit Goes Down As Communities Protest Wildly Unpopular Changes [UPDATE]
In an internal memo obtained by The Verge, Huffman said the company anticipates many of the subreddits that have gone dark will turn their lights back on by June 14, adding that the pain Reddit is feeling is merely a phase and that profits are just fine, guys.
"We have not seen any significant revenue impact so far and we will continue to monitor," Huffman said in the memo, which was sent to all staff on June 12. "There's a lot of noise with this one. Among the noisiest we've seen. Please know that our teams are on it, and like all blowups on Reddit, this one will pass as well. The most important things we can do right now are stay focused, adapt to challenges, and keep moving forward. We absolutely must ship what we said we would. The only long term solution is improving our product, and in the short term we have a few upcoming critical mod tool launches we need to nail."
Huffman said that Reddit teams have been working nonstop to adapt to infrastructure strains while engaging with communities in response to the blackout. Still, Reddit appears to be going forward with the unpopular changes, even as they have effectively killed third-party apps like Apollo and Infinity by charging them for access to the site's API. Those costs could run some apps' wallets millions of dollars a year. In light of this backlash, Huffman warned staff about wearing Reddit merch in public.
"Some folks are really upset, and we don't want you to be the object of their frustrations," Huffman said. "Again, we'll get through it. Thank you to all of you for helping us do so."
Kotaku reached out to Reddit for comment.
Read More: Reddit Is Killing The Best Way To Read The Site
Reddit has been in hot water since announcing the changes to its API prices in April. An estimated 8,000 subreddits have opted to close indefinitely in protest of the exorbitant hike, including numerous gaming subreddits like r/anime, r/gaming, r/minecraft, and many others. Other communities, though, appear to still be alive and active, so it'll be interesting to see how long the blackout lasts.