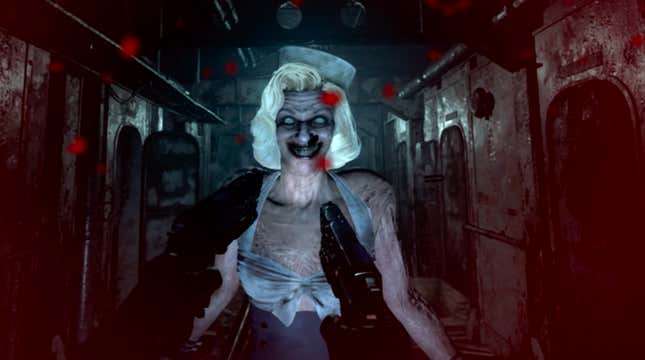 The Dark Pictures Anthology developer Supermassive Games will release a scary, shooter spinoff for the PS VR2, Switchback VR, later this month. A new gameplay walkthrough trailer reveals a grim roller coaster ride into a series of nightmares, made even more gruesome by eye-tracking technology that pulls enemies to you every time you blink.

Crush Marvel Snap 'Zoo Decks' With Killmonger
Read More: "PS VR2: The Kotaku Review"
As game director Alejandro Arque Galladro explains in the walkthrough, Switchback VR puts players on the ground after a train crash, barely still alive. In this in-between state, they get tucked into a terrifying vision by a demoness trying to finish the job and yank them to hell. Most of the nightmare occurs on a seemingly never-ending, rusted rollercoaster ride flanked by Dark Pictures monsters and waxy mannequins that move as your eyes do.

"We can see if you're blinking, or [...] where you're looking at," Galladro said about PS VR2's eye tracking technology. "So these enemies, the mannequins, [...] they only move when you blink. So, if you start blinking, they keep changing positions, getting closer, [multiplying], maybe activating and attacking you. So if you can keep your eyes open, maybe you'll be safe?"

I know I wouldn't be safe. I've seen that Doctor Who episode. And anyway, Galladro says the mannequins appear even outside their designated "don't blink" rooms, with sinister carved smiles on their faces, also paired with eye tracking, but in a "completely different way" he didn't elaborate on.
Switchback VR will also use haptic feedback in the PS VR2's handheld controllers and headset to let you physically feel the horror.

"If you do not duck things in time," Galladro said, "you'll feel it in your head. If a hand is passing through you, you'll feel that hand on your head, it's all about getting you the feeling of you're there. This is you, there's no one else."

I will not be playing Switchback VR for fear of having a cardiac event, but it comes out March 16 and is currently available for pre-order.