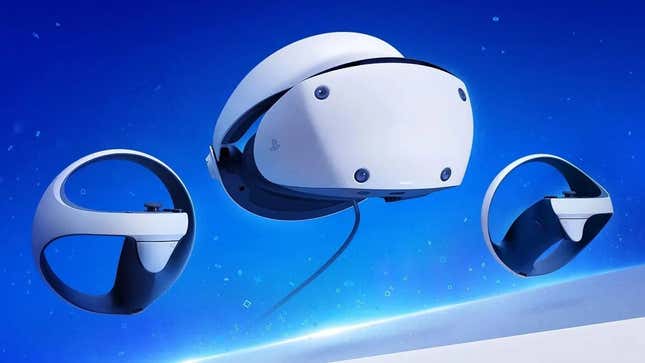 A month after launch, some analysts are already raising a panic about PlayStation VR2 headset sales. Bloomberg reports that the PS5 accessories are projected to have sold less than 300,000 units in the first month, renewing calls to slash the high-end $550 price tag.
We Need To Talk About This John-Wick-But-It's-Cute-Girls Anime
Released on February 22, PS VR2 is a high quality and comfortable headset with decent games that still struggles to justify the premium cost. In addition to the headset, users also need a PS5, which starts at $400, plus the games themselves, like the $60 Horizon Call of the Mountain. Sony hasn't released official sales numbers yet, but estimates so far by some analysts are not reassuring about the company's latest VR play.
Research firm IDC told Bloomberg on March 29 it expects PS VR2 to only sell 270,000 units in its first month, staggeringly less than the 2 million goal Bloomberg had previously reported based on order requests to part suppliers (which Sony has called inaccurate). "I suspect a price cut on the PSVR2 will be needed to avoid a complete disaster of their new product," said Francisco Jeronimo, IDC's vice president of data and analytics.
PS VR2 launched at a weird time with companies like Facebook-owner Meta slashing its investment in the virtual reality market. It also doesn't yet really have a killer blockbuster game to help win over skeptics and newcomers. And it's a hefty extra investment at a time when many players seem content to just get a PS5 and call it a day. Sony's console had its best sales month ever in February.
In some ways it feels like a repeat of the original PS VR launch back in 2016. That headset didn't light the world on fire either coming out of the gate, and took six months to break a million sales. It eventually went on to sell 5 million headsets total. That's a respectable number for a first attempt, but would be a disaster in a maturing market where Meta managed to sell 20 million Oculus Quest 2s.
It's hard to see PS VR2 coming anywhere close to that without an early and dramatic price cut, or the reveal of a VR adaptation of a major Sony franchise that will be a headset exclusive. The current Horizon spin-off isn't quite there, and it's not even part of the monthly PS Plus subscription library yet.