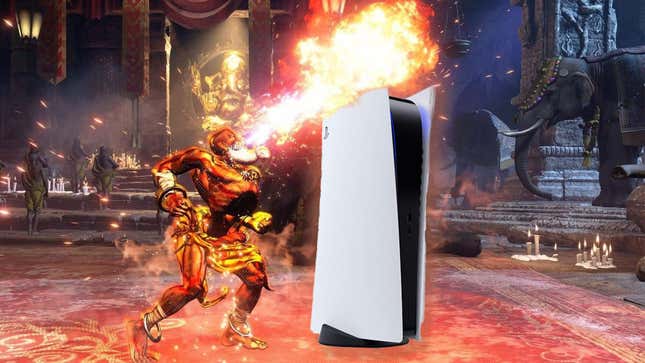 Over the weekend, thousands of fighting game fans descended on Las Vegas, NV for Evo 2023, the biggest fighting game event of the year. It was a reminder of how cool esports can be, especially when built of the passion and tenacity of grassroots communities. For some competitors there was just one problem: some of the PS5s running all the games were melting their controller connectors.
Thank You, PS Plus, For Making My Backlog Even Bigger
While the last leg of matches for games like Street Fighter and Mortal Kombat play out in the center stage of a big arena, it takes thousands of matches to winnow down the top contenders out of everyone who competes. That means big halls full of hardware running almost non-stop as everyone makes their way through each respective tournament, taking their controllers or fight sticks with them from one station to the next. And apparently at this year's event, that meant more than a few players dealing with PS5s that got so hot they screwed up their USB adapters.
"EVO is proving that PS5 is NOT the answer," posted Twitter user SabreAZ on August 5. "Usb ports are melting like craY. @Kyoku236HS usb on his controller melted. This is not isolated. We need to go PC or xbox at least." Kyoku236HS responded with a photo of the plastic insert in the PS5's USB port. "This got stuck in my stick lol," they wrote. "Got ripped out of the ps5."
While seemingly not a massive issue for the entire event, it doesn't seem to have been a completely isolated one either. "This is my melted controller," posted Eduardo Cuervo alongside a photo of their USB cord with similarly deformed plastic insert. "It just took one set."
User SyrupyCereal recounted a similar incident on Reddit. "After my SF6 set, my opponent courteously took out my cord for me and out came with it the PS5 USB receiver," they wrote. "Broke my Junkfood cable right then and there! Didn't find out until I had my first match for Granblue Rising, and feeling like an idiot that I couldn't plug in my cable to the PS5."
It's not clear if the issue was specifically due to certain defective PS5s running too hot, or the consoles simply being pushed beyond conventional usage under unusual circumstances. The hardware only has one USB port on the front of the console. The other two are on the back right next to the heat exhaust. Some players claimed the connectors themselves were even hot to the touch when first pulled out at the end of a match.
The great irony, of course, is that Evo is run by Sony. The PS5 maker acquired the esports organizer back in 2021. Some players have been skeptical about one of the major platform holders controlling the event, worried that it would push its own technology or partnerships ahead of what was best for the tournaments as a whole. The PS5 in particular is more limited than gaming PCs when it comes to support for certain peripherals. While some fight sticks like the Hori FS Alpha and Nacon Daija 2 are made for PlayStation, others require adapters or hacks to get them working.
Sony and Evo didn't immediately respond to requests for comment.