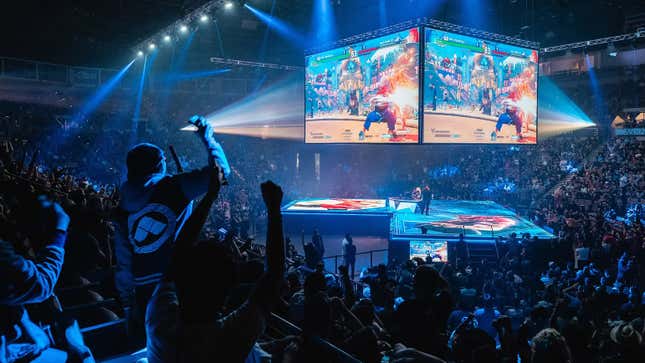 The world's largest fighting game competition, Evolution Championship Series, (colloquially known as Evo) has been purchased by Sony Interactive Entertainment, the Japanese corporation announced today. Evo co-founders Tom and Tony Cannon plan to stay on as key advisors.

The Week In Games: System Shock, Street Fighter 6, And More
Joining Sony in the acquisition is RTS, a new esports organization recently formed by sports marketing company Endeavor.
"Fighting games have been a vital part of PlayStation's legacy and our community since the very beginning, and we've been thrilled to partner with Evo over the years," said Steven Roberts, Sony's vice president of global competitive gaming. "This joint acquisition with RTS marks a new chapter of collaboration with Evo's co-founders, Tom and Tony Cannon, and their passionate community of fighting game fans."
Since its formation as Battle by the Bay in 1996 and eventual evolution in 2002, Evo has been considered the most prestigious fighting game competition on the planet. Every year, it attracts thousands of players to Las Vegas for its open brackets, which allow everyone a chance to take on the big dogs and walk away victorious.
Evo, like most fighting game tournaments, was forced to halt in-person competition last year due to the covid-19 pandemic. The organization's 2020 make-up event, Evo Online, was then shut down after allegations of sexual misconduct hounded co-founder and former CEO Joey "Mr. Wizard" Cuellar. Before today, this left the competition's future in flux.
"Tom and I are incredibly excited by the partnership with SIE and RTS," Tony Cannon said. "Both companies bring a wealth of experience and share our passion for what makes the fighting game community so great. We are looking forward to working with them to launch Evo to the next level while remaining true to our roots."
Evo plans to try to get Evo Online off the ground again this August, featuring open tournaments for Street Fighter V, Tekken 7, Mortal Kombat 11, and Guilty Gear Strive. Competition will be broken up into regions, with qualifiers for North America, Europe, Asia, and Latin America. Entry is completely free.
As for how this will affect the games featured at future Evo events, never fear: Smash should be safe. According to Evo's head of business development Mark Julio, the fighting game tournament will be open to games on all platforms despite its new PlayStation-tinged ownership.
The Cannons also shared a separate statement with the fighting game community, which we've included in full below:
Evo would not be possible without the collective passion and collaboration of the fighting game community, and we're deeply grateful for your dedication over the past 25 years. We know last year was challenging due to the pandemic, and the circumstances surrounding the cancellation of Evo Online involving a former team member who has been completely separated from our company.

We want to reaffirm that harassment or abuse of any kind has no place within Evo or any of our future events, and we're taking every precatuion to make sure member sof our community will always be treated with the respect, dignity, and decency you deserve.

In order to deliver on the trust you have all put in Evo, we realize that we need an experienced strategic partner who truly respects the spirit of the FGC. This is why we're excited to announce that Evo has become part of the joint partnership of Sony Interactive Entertainment and RTS. The new partnership is committed to bringing amazing tournaments and competitive gaming experiences back to you this year and beyond.

From the bottom of our hearts, thank you for your continued support.
.