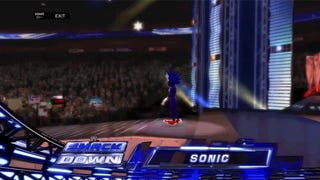 We've already seen great characters created using WWE 2k14's deep character creation toolkit, but why stick to superheroes when the possibilities are endless? So Jerma on YouTube went completely crazy and created an entire tournament with characters that are just out of this world.
Sonic above is just the tip of the iceberg. Here's Glue Man:
Danny DeVito:
The Chicken:
Bat Boy:
And Gabe Newell, the only normal character in the video, who also should be the winner.
But will Gabe Newell win? Here's Jerman's full clip with a lot more characters and hilarious commentary:
The Jerma Rumble [Jerma985, YouTube], pics via Reservetank [Tumblr]
To contact the author of this post, write to: gergovas@kotaku.com