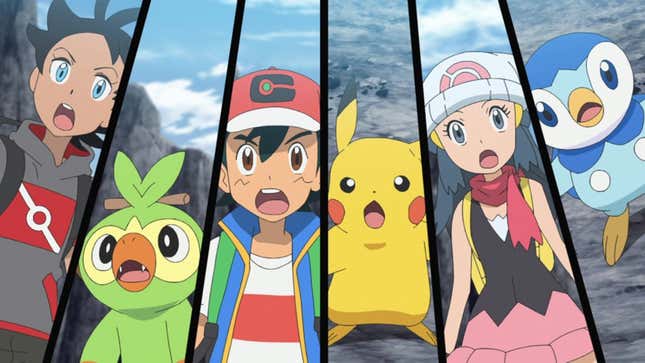 There's a lot you can do with $300,000: buy a couple Teslas, invest in some stocks, get a PS5 or Xbox Series S/X (or a few of them). It's an amount of money some people will never see in their lifetimes. Yet, someone with the cash to burn took their $300,000 and bought a super-rare Pikachu Pokémon card at an online auction. Spend it if you got it, I guess.
Why Mario Strikers: Battle League Could Be Nintendo's Next Multiplayer Hit
Pokémon cards are collectible and playable cards part of the series' trading card game (TCG). While some have fetched high prices before, including one from July 2022 that YouTuber Logan Paul spent $5 million on to turn in an NFT (yuck), most are just your standard printed art on cardstock. That's not to say folks don't go buck wild for a limited-edition card, as evidenced by Japan recently running out of the things thanks to a new double-set pack that featured a rare Grusha and Iono. And while there was one auctioned off for almost half a million dollars earlier this year that seemingly nobody bid on, there's another card with an equally eye-popping price tag that seems to have actually sold.
Read More: These New Pokémon Cards Are Making People A Fortune
The 'extraordinarily rare' Pokémon card is now someone's centerpiece
Dexerto reports that a high-graded Pikachu Pokémon card ran someone's wallet $300,000 on the multi-national auction house Heritage Auctions. The card itself, a 1997 Trophy Pikachu issued to the third-place winner during the TCG's first-ever tournament in Japan, is extremely rare. According to the Professional Sports Authenticator (PSA), a site that authenticates and grades cards around the world, less than 100 of these cards were ever printed. On top of that, the PSA graded the Trophy Pikachu Pokémon card an NM-MT 8, meaning it was in damn-near-perfect condition. So, unless you attended and placed high in that Japanese tournament, you ain't getting one.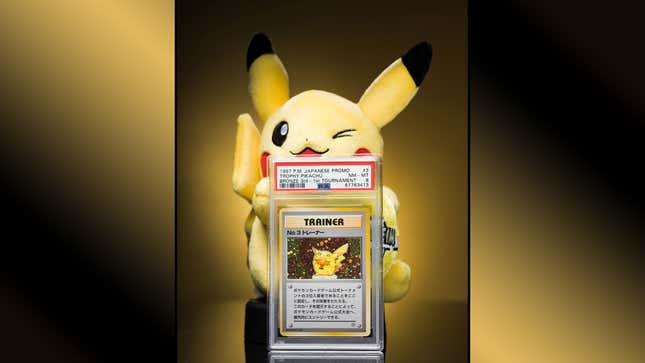 In a press release announcing the news, Heritage Auctions' trading card games consignment director Jesus Garcia said that, though the team was confident the card would do well, the price it sold for exceeded everyone's expectations.

"This card was not in the booster boxes that were offered at the time," Garcia said. "It only was available to trainers who finished third at the First Official Pocket Monsters Tournament in Chiba, Japan, in 1997. It is an extraordinarily rare card [that] now stands as a centerpiece in the winning bidder's collection."
Kotaku reached out to Heritage Auctions for comment.
Read More: This May Be The Biggest Pokémon Card Theft In History, And It's Causing Drama [Update]
You could buy the card from the person who scooped it up from the Heritage Auctions, but according to the site, your offer would have to start at $450,000. However, there is a warning message attached saying that the "owner's willingness to entertain and respond to offers has not yet been verified." And at the moment, the number of offers pending is labeled "not applicable." For now.