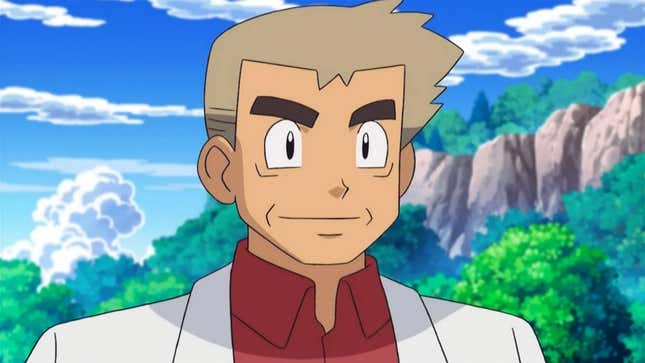 James Carter Cathcart—the voice actor behind iconic Pokémon characters such as Professor Oak, his grandson Gary, and Team Rocket's James and Meowth—is retiring from the anime after 25 years due to an advanced form of cancer.
This Halo Infinite Map of Zelda's Kokiri Forest Is Absurdly Detailed
Read More: As First Anime Ends, Ash Ketchum's Pokémon Voice Actor Takes Her Victory Lap
You've likely heard Cathcart's voice, even if you weren't watching the Pokémon anime since its 1998 introduction. While he's portrayed Professor Samuel Oak's grandson Gary since day one (as well as Oak himself and Team Rocket's James and Meowth since 2006), Cathcart's voice can be heard in a number of classic anime. He's performed in shows like Yu-Gi-Oh! Duel Monsters as the bowl-cut duelist Weevil Underwood, Kirby: Right Back at Ya! as the senile knight Sir Gallant, Sonic X as the music-loving Vector the Crocodile, and even One Piece as the Black Cats Pirates officer Butchie. Cathcart's voice has appeared in a few games, too, including Pokémon Snap, Valkyrie Profile, Yu-Gi-Oh! Capsule Monster Coliseum, Shadow the Hedgehog, and—get this—Super Smash Bros. Brawl as the Pokémon Munchlax. In short, Cathcart is prolific when it comes to his craft and talent. It's saddening to hear that cancer is plaguing him right now.
Cathcart has an advanced form of throat cancer
The news comes from CaringBridge, a website that acts as a personal journal for families to communicate health updates with folks online. A page for Cathcart appeared in January, where his wife Martha announced the advanced cancer started in his tongue and spread into his neck. She said that the cancer was treatable, and that was Cathcart receiving chemotherapy treatments to shrink the tumor. Sadly, according to a new post on April 17, the two learned that Cathcart's tumor "didn't respond to the induction chemotherapy," and that doctors believed a more aggressive chemotherapy approach was necessary. This is set to start around May 1, with "seven weeks of five-day per week radiation therapy [and] simultaneous chemotherapy in weeks one, four, and seven."
Likely because of the arduous medical treatments ahead of him, Cathcart decided to retire from Pokémon.
"[Cathcart] has decided to retire from script adapting and voice dubbing for Pokémon USA, effective at the conclusion of Season 25," Martha wrote. "He has been with the series since the 1st episode, so it is a timely decision as the series transitions to new characters and storylines. […] We remain eternally grateful for your love, thoughts, comments, 'hearts,' prayers, and well-wishes."
Called "Ultimate Journeys," Season 25 of the Pokémon anime wrapped up on March 24 in Japan and saw Ash Ketchum walk off into the sunset. Meanwhile, Season 26's "Horizons" kicked off on April 14. Based on Scarlet and Violet, this season introduces new trainers and side characters like Professor Friede and Captain Pikachu. It'll be a while before Horizons makes its English dub debut, though, as The Pokémon Company finalizes its new licensing deal with Netflix.
Read More: The Pokémon Anime Is Leaving Ash And Pikachu Behind After 25 Years

I hope treatment goes well and Cathcart returns to the industry in good health.