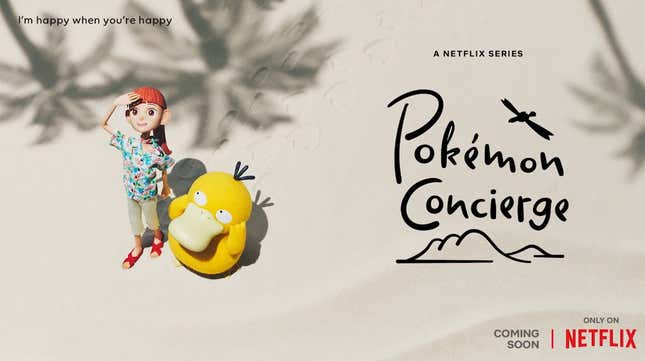 Netflix and The Pokémon Company have announced a new original series set in the Pokémon universe called Pokémon Concierge, though it doesn't seem to be the previously reported live-action series that was said to be in the works back in 2021.

News of this came during today's Pokémon Presents showcase, and it debuted with a brief teaser featuring a Psyduck. The show comes as part of a collaboration between Netflix and The Pokémon Company following a longstanding relationship bringing the English dub of the anime starring Ash and Pikachu to Netflix subscribers, though the starring trainer and Pokémon are on their way out as series leads in the next season.
Sonic Prime's Lead Voice Actor On Bringing Swagger To The Iconic Role
What makes Pokémon Concierge interesting is that it seems to be moving away from the battling storylines entirely, and will focus on a Pokémon hotel, instead. This has been a recent trend in the franchise, with things like Detective Pikachu spotlighting parts of the world that have nothing to do with becoming the very best like no one ever was. As a long-time fan, it's refreshing and exciting to see the series trying new things, and Pokémon Concierge is filling that particular void in my heart with Detective Pikachu's sequel nowhere to be found.
Notably, the series won't be made using the original show's hand-drawn animation, and will instead be a stop-motion animation show, as seen in the teaser. It's an interesting way to keep the show distinct from the anime, especially as it enters a new era with new main characters Liko and Roy, who are taking up the mantle when Ash and Pikachu make their exit. Well, Ash's Pikachu, at least, as Captain Pikachu is making his debut to keep the series' mascot around.