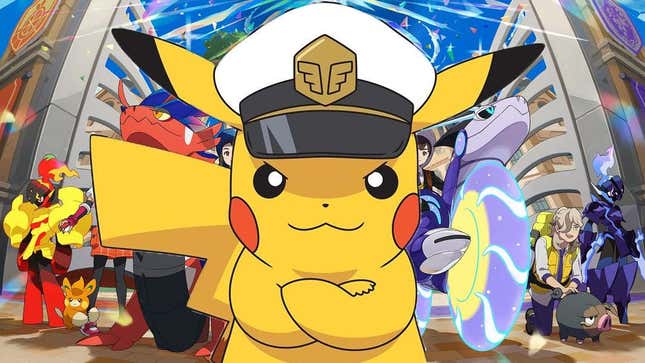 Ash Ketchum and Pikachu may be heading into the sunset after an epic 25-season run, but the Pokémon anime they starred in isn't. Another series will take flight soon with new trainers Liko and Roy to root for. But they won't be the only heroes. On Friday the Pokémon Company revealed the series' new professor, Friede, and his loyal companion: Captain Pikachu. Yup, the rat has a hat now.
Why Mario Strikers: Battle League Could Be Nintendo's Next Multiplayer Hit
We don't really know anything about what either character will be like, but both of their designs were revealed today, alongside a press release. "For 27 years, Pikachu has been synonymous with the Pokémon franchise, and we look forward to seeing this beloved Pokémon continue to have a significant presence in the animated series and remain an icon for the brand," Pokémon Company marketing VP, Taito Okiura, wrote.
What can we glean from these renderings? Friede appears to be a pilot, complete with a bomber jacket and goggles up over the forehead. Digimon's Tai would like a word. Meanwhile, Pikachu—ahem—I mean Captain Pikachu—looks like it's got some rude 'tude this time around. See furrowed brow, knowing smirk, and folded arms? I bet it stole that captain's cap right off Tom Hanks' head after giving him a swirly in the airport lounge.

Read More: Where To Catch Up On Pokémon Before Ash And Pikachu's Farewell
Whether Friede and Captain Pikachu are flying a commercial airliner or having Tail Spin-like adventures in a bright-colored sea plane, they'll have big shoes to fill. Predecessors like Ash and not-a-Captain Pikachu helmed the fan-favorite anime for over two decades, wrapping it up across a final batch of episodes that started airing in Japan earlier this year. It's also the perfect opportunity for the series to switch things up following the blockbuster launch of Pokémon Scarlet and Violet last year.
The mega franchise spent much of 2022 moving beyond nostalgia to redefine itself, and in many ways it's never been bigger. Between the games, anime, and trading cards, the core pillars of Pokémon have stood the test of time. Now let's see if they can stand the test of Captain Pikachu. Fans can watch Ash and OG Pikachu's final adventures together in Pokémon Ultimate Journeys: The Series which premiered today on Netflix.