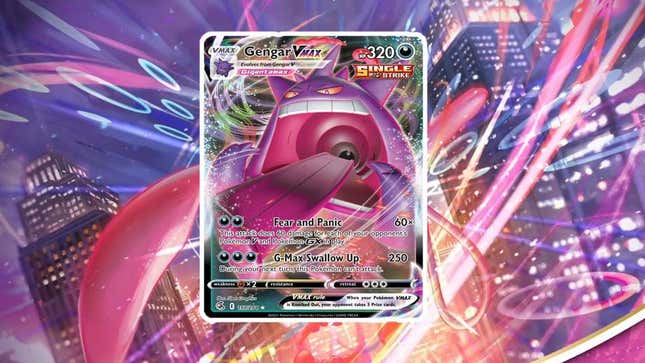 It certainly looks like someone might have stolen a bunch of rare Fusion Strike cards from The Pokémon Company. According to evidence surfacing from a Dallas-based Pokémon trading card community, the alleged thief tried to sell them to a local shop only to be turned over to The Pokémon Company in what the store is calling the "largest return of stolen property to date" in the trading card game's history.
12 Marvel Snap Cards That Can Go Into Any Deck
Details of the apparent heist began spilling out of the closed Pokémon World Facebook group onto Reddit over the weekend. A photo showing stacks of valuable Fusion Strike cards, from full art trainers all the way up to VMAX Mews, Espeons, and Gengars covering the table, quickly blew up on r/PokemonTCG. "Saw this on a FB group," Reddit poster GuavaWave wrote on April 15. "Allegedly, printing company worker stole hits off the line and tried to offload them to a LGS."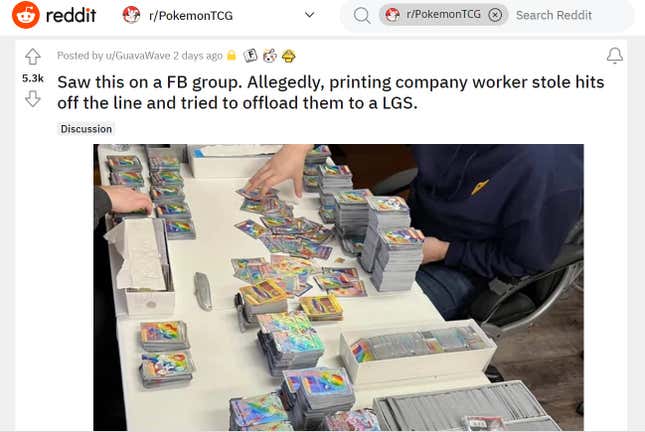 The next day, GuavaWave returned with a post of a statement from Trading Card World (TCW), the card shop the alleged thief seemingly tried to sell the cards to. TCW said it had immediately been suspicious of the haul, believing the only way someone could have such a concentrated number of rare cards from one set was by making counterfeits or stealing them. When questioned, the seller apparently revealed they worked for a Pokémon card printing company. TCW says it immediately informed The Pokémon Company, which performed its own investigation and recovered the stolen cards.

The statement goes on:
5: Pokémon Corp acknowledged Trading Card World for their critical contribution to the recovery of these stolen items. It was the largest return of stolen property to date.

6: Trading Card World was asked to keep this information confidential while an active investigation was underway. With respect to that request, TCW has kept this story and their important involvement out of the spot light.
Read More: The Most Wanted, Valuable Cards In Pokémon Scarlet & Violet TCG
This might have been the end of the story, except that collectors and fans have long accused Fusion Strike, a 2021 expansion, of having some of the worst pull rates in modern Pokémon card history. Some rare cards like Alternate Art Vmax Mew were estimated to be up to four times harder to get than the most sought after cards in other recent expansions. The data was anecdotal at best, but it became established wisdom among some in the community. It all came amidst the game's post-covid explosion, a period in which The Pokémon Company couldn't print new cards fast enough to keep up with demand.
This is why, following the discovery of a possible Fusion Strike mega theft, a few fans and collectors have blamed it for why the set's pull rates had been so bad. While there's no evidence that the stolen cards deprived some booster packs of rares they might have otherwise contained, some initially took it as vindication of long-held suspicions. One player on the subreddit suggested it doesn't even matter. Either the bad pull rates were on purpose or influenced by the alleged heist. Either way, the damage is done.
The Pokémon Company and Trading Card World did not immediately respond to requests for comment.
Update 4/19/2023 4:08 p.m. ET: A spokesperson for The Pokémon Company told Kotaku there is no indication that the packs were tampered with and that the Fusion Strike set included all of the rare cards it was supposed to. It's still investigating the theft itself, however, and declined to comment on the details of it for now. Here's the full statement:

We take the protection of our IP and associated products very seriously. This matter remains under investigation and we cannot comment on details at this time. However, we can confirm that Sword & Shield ­booster packs and products were shipped to retail as intended and we have no indication that the integrity of the products were impacted by any confirmed or unconfirmed theft. Furthermore, we continue to significantly invest in both the production and security of our TCG business. We value the faith our fans put in us and our products, and these investments are intended to help us continue to maintain their trust.