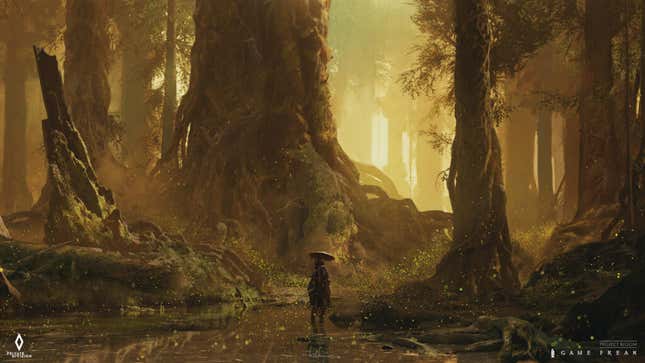 What in the world? Longtime Pokémon maker GameFreak just announced something completely unrelated that will be published by Take-Two's Private Division label. Codenamed Project Bloom, it's in early development and billed as an action adventure game and…that's basically all we know about it.
New Pokémon Scarlet And Violet Trailer Features Hot Profs, 4-Player Co-Op, And Lechonk, The Hero We Deserve
"Private Division will publish a brand-new action-adventure IP from Game Freak, codenamed Project Bloom," the publisher wrote in a press release. "To celebrate this announcement, Private Division and Game Freak have unveiled the first piece of concept art for the game."
The concept art, which you can see above, shows a lone warrior sporting a conical hat and a sword in an ancient forest that's filled with little fluorescent spores. It looks like what you might get if you mashed together Pokémon Legends: Arceus with Elden Ring. Who knows if that's an indication of anything other than my own limited imagination, but fans already seem receptive to news.
Read More: Game Freak Is More Than Just A Pokémon Developer
"We're thrilled to have the opportunity to create new IP that is bold and tonally different from our prior work," Kota Furushima, Director at Game Freak, said in today's announcement. The game won't be coming anytime soon, though. Private Division says it's aiming to launch the project sometime in Take-Two's 2026 fiscal year, so by early 2027 at the latest.
GameFreak is no stranger to working on non-Pokémon games. Pocket Card Jockey was a 2013 3DS game that people fell in love with and was recently remastered on Apple Arcade, while 2019's Little Town Hero was a cute little RPG that no one really paid much attention to. Project Bloom, however, appears to be much more ambitious, and potentially darker than those side experiments.
How does the Japanese studio find the time? It recently released three new Pokémon games in the span of 12 months, culminating in Pokémon Scarlet and Violet which was full of new ideas and also pretty busted at launch. It left fans wondering what's holding the studio back from making more visually ambitious games, and whether it should take more time in-between entries in the mega hit franchise.
Will Project Bloom add even more strain to the roughly 200 person company, or will it end up being the spectacle fans wish the Pokémon games could be? We'll find out…three years from now.