Sony spent an hour of its June 12th conference making use of its stage to put on a theatrical performance. Hanging corpses and pyrotechnics dazzled (if you're into that sort of thing) for a presentation that was light on industry buzzwords, relied heavily on a trailer showcase, and had very few new announcements.

Was it déjà vu that kicked off Sony PlayStation's E3 2017 Media Showcase? In 2016, God of War's reveal received a live orchestral treatment. For E3 2017, Uncharted: The Lost Legacy led the show with a live musical ensemble. But it wasn't the only thing that felt familiar. Many of Sony's announcements were updates on exclusive games it revealed the previous year. Of those, few got solid release dates during the conference. But let's take a more detailed look.
The promise: The first, as previously mentioned, was for PlayStation 4 game Uncharted: The Lost Legacy. Before the actual trailer was shown, a waterfall cascaded behind the musicians, seemingly changing shape through the power of technological wizardry and a light show. The game would follow the adventures of Chloe Frazer and Nadine Ross. No release date was provided at the end of the trailer, but one was previously given in April. That release date? August 22, 2017.
Did they deliver? Yes. First announced at the end of December 2016, the latest Uncharted game met its promised release date. Taking place in India, the title starring the powerhouse female duo is a very good game, full of ridiculously cool details, and an excellent, hilarious photo mode.
G/O Media may get a commission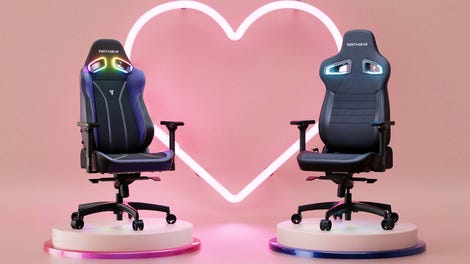 Up to $150 off
Vertagear Gaming Chairs
The promise: "Snow" began falling in the Shrine Auditorium where the conference was held, and a harsh snow-covered world was presented in the next trailer for Horizon Zero Dawn's expansion pack, The Frozen Wilds. "Coming 2017" was all the information provided.
Did they deliver? Yes. On November 7th, The Frozen Wilds standalone side-story—a good one at that—released. It took Aloy to a new region but seamlessly fit into Horizon Zero Dawn's greater narrative.
The promise: The zombie apocalypse game Days Gone was next. The lengthy trailer showed protagonist Cole on a mission to find a friend, taking him through hostile territory of humans and undead alike. Zombies and corpses were hanging from the trees, and on Sony's stage, a few hanging "zombies" hilariously writhed in time with the action on screen. But when would players get to deal with zombie bears for this PlayStation 4 game?
Did they deliver? Not yet. First revealed at E3 2016, Days Gone's projected 2018 release date has since moved to 2019.
The promise: A dense forest and a person investigating glowing tracks leading to the hunt for a lumbering dinosaur beast was the subject of the next trailer. Monster Hunter: World was revealed as an early 2018 release, and it was the first non-exclusive Sony game shown that evening.
Did they deliver? Yep, and during the first month of the year, too. On January 26th, players on PS4 and Xbox One (sorry, PC crowd—you'll be able to hunt later this year, it seems) got to start their exploration of the new world when Monster Hunter: World launched. Packed with missions, timed events, quest monsters, and crossovers from other Capcom properties, World continues to be a game that's a multiplayer smash-hit.
The promise: From the giant monsters of Monster Hunter: World to towering Colossi. The next trailer was for the remake of Shadow of the Colossus, scheduled for a 2018 release.
Did they deliver? Yes. The remake of the 2005 classic released on February 6, 2018. This version, as Chris Kohler noted in his review, is "a faithful recreation" with "quality-of-life improvements" to the original masterpiece's journey to slaying 16 colossi. A few bonus options were included, as well as mysterious collectibles added in-game. Keen players were already able to solve their mysteries.
The promise: A trailer for Marvel vs Capcom: Infinite was shown next, bringing superheroes from both franchises to fight it out on a September 19th release date. A story demo would be available for download on the day of the conference.
Did they deliver? Yes. The demo released on the PlayStation store on the same day of the conference, and a day later on the Xbox One store. The full game released on PS4, Xbox One, and PC on September 19th as promised, with a collector's edition that was certainly… something. The game was snubbed by both the Evolution Championship Series for 2018 and The Capcom Pro Tour, leaving members of the fan community in shock.
The promise: The next Call of Duty game would use World War II as a setting. The release date was slated for November 3, 2017.
Did they deliver? Indeed it did. Call of Duty: WWII released on November 3rd on PS4, Xbox One, and PC. Jettisoning its recent forays into futuristic warfare combat settings, the series instead returned to more grounded roots.
The promise: The first game of the PS VR trailer segment was shown, and took our protagonist through equally harsh and gorgeous scenery. Fights with various enemies were presented including one against a dragon, and it was unveiled that The Elder Scrolls V: Skyrim would be headed for the system. No release date was provided.
Did they deliver? Yes, on the 17th of November. Skyrim VR allowed players to dive into its beautiful world in a whole new way, just with potential real-world motion sickness as a horrible added "bonus."
The promise: Next up was a trailer for the sci-fi game, Star Child. And once more, it was another game with no hint of a release date or window.
Did they deliver? Not yet. Star Child, as per the PS Store, is currently slated for a December 31, 2018 release date.
The promise: It was then time for a scary game, with an upbeat song playing in a rundown looking hospital. The Inpatient, a PS VR game, received no release date or window. A January 2018 release was later revealed.
Did they deliver? Yep. The Until Dawn prequel (surprise!) released earlier this year on January 23rd.
The promise: Prince Noctis and the boys were the stars of the next PS VR trailer for a Final Fantasy fishing adventure. Final Fantasy XV: Monster of the Deep would be available in September 2017.
Did they deliver? No. Monster of the Deep did not make its September release. But on November 21, the Final Fantasy fishing game of everyone's dreams was released. Okay, maybe not everyone's dreams. Maybe it was more of a nightmare.
The promise: Up next: a shooter for PS VR titled Bravo Team. Was there a release date? No, there was not. But later, a March 2018 release date was announced.
Did they deliver? Yes. On March 6th, the military-based shooter released for PS VR.
The promise: A gorgeous wooded area is shown as a small mouse adventurer, with a dashing red handkerchief around its neck, makes its way through it. Armed with a sword, our mouse in Moss would be headed into battle at an unknown date, later revealed for a 2017 release window.
Did they deliver? No. Moss was pushed to February 2018, and the storybook adventure featuring the lovely mouse Quill eventually released on PS VR on February 27th, 2018.
The promise: The sound of water filled the auditorium for the next trailer. The video cut to someone rowing, and the camera panned over a familiar character. Kratos sat stoically, and for the next few minutes of cutscenes from the next God of War, he spoke very little. Atreus, his son, carried most of the conversation. Gameplay footage mixed with more cutscenes from the game continued the lengthy trailer spot, until it was finally revealed that it would be released in early 2018.
Did they deliver? Boy, did it ever. On April 20th, just over a month ago, the game released to much fanfare, becoming Sony's fastest-selling PS4 exclusive.
The promise: Androids are programmed (and can exceed those limits) to do just about anything—cleaning, city work, singing, start revolutions—as shown in the next promotional trailer for Detroit: Become Human. Players would be able to go through multiple stories, making decisions to affect outcomes of story paths at an unknown release date, as none was provided on stage.
Did they deliver? Yeah. The release date was later revealed as May 25, 2018, which the game met. The Quantic Dream game had its share of controversies ahead of its release. The game itself, as per Kirk Hamilton's review, is pretty standard sci-fi stuff, riddled with expected tropes, making it somewhat boring overall.
The promise: In the following trailer shown, the Traveler's light was in danger. Death would come for The Guardians on September 6, 2017, the promised release date for Destiny 2. The PlayStation 4 version would also receive exclusive content (exclusive, that is, until at least the fall of 2018), including the Lake of Shadows strike, gear, the City Apex ship, the Borealis exotic weapon, and the Retribution PVP map.
Did they deliver? Yes. On September 6th, Destiny 2 launched for PS4 (with its exclusive content, for now) and Xbox One. PC players got the game in October. Six months after its release, the game has been through a lot, and so it continues.
The promise: Sony's studio head Shawn Layden closed out the show introducing the last trailer of the showcase in which a panoramic view of New York City was presented. Over the in-game police wire, an active shooting was reported, and a superhero arrived to help (?) the NYPD. For the remainder of the trailer, gameplay was shown of the web-slinging action of the upcoming Spider-Man game with at least two confirmed villains, Wilson Fisk (aka Kingpin) and Martin Li, leader of a group known as The Demons. Mass destruction of the city would come our way in 2018 with the release of Insomniac's Spider-Man, which is exclusive to PlayStation 4.
Did they deliver? Not yet. First shown off at E3 2016, our collective spider senses have not yet had a chance to tingle. But earlier this year, a release date was provided. We'll see more Spidey at this year's E3, and we'll hopefully get more on that cool Miles Morales scene Sony teased at the end of last year's conference if the game meets its slated September 7th, 2018 release date.
---
The overall promise: It took over 13 minutes into Sony's hour-long E3 2017 presentation for Shawn Layden to make an appearance on stage. During that time, he discussed Sony's goal of showcasing diverse games for both the console and VR titles since PS VR's 2016 launch, a trend that Sony believed continued into 2017 with releases including Persona 5, Nioh, Horizon Zero Dawn, and Resident Evil 7. The plan for the evening was to showcase first party exclusives and partnerships for franchises that gamers would want to play.

Did they deliver? It's a yes, really. It's hard to deny that PlayStation had a strong year in 2017. And thus far, with God of War dominating sales in 2018, the company may be set to having another good one.
Of everything shown, a few release dates weren't revealed until later. But in the end, over half of the promises were met. A few stray game promises were solidly broken, with a couple pending. Sony did relatively well in 2017, and it remains to be seen if it can keep it up as 2018 rolls on.

Tomorrow we'll bring you the final article in this E3 2017 Promises series, when we look back at Nintendo to see how that company fared.

Correction (11:22am): Days Gone "no" corrected to a not yet.