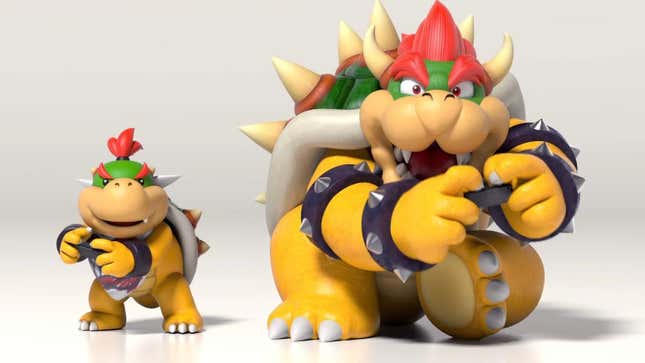 The Nintendo Switch has sold an unprecedented 125 million units so far, putting it right behind the Nintendo DS (154 million) and Sony's PlayStation 2 (over 155 million) on a list of best-selling consoles of all-time. Could the handheld hybrid surpass them and become the best-selling gaming device ever? Maybe, and Nintendo of America president Doug Bowser knows how to do it: by kids annoying their parents into buying them one of the new editions.
What You Should Know About Mario Strikers' Big Free Update
"It's for the family, quite honestly, that's looking to get one more Switch, if the kids are fighting over the existing Switch," Bowser told The Washington Post in a recent interview. Nintendo just revealed yet another Mario Kart 8 Deluxe Switch bundle that includes the game for free, nine years after it first launched on the Wii U. The company announced special edition Animal Crossing: New Horizons Switch Lites as well, three years after that hit game originally debuted. The game is free in that bundle as well.
"Every year, there are millions of households that have kids turning 6, 7 or 8, which is typically when people introduce their children to video games, and we think we're a very logical and obvious choice for those families," Bowser explained to The Washington Post. It's a rehearsed line he used on IGN as well, but one with an obvious grain of truth.
Nintendo has long said it competes for people's time in general rather than against Xbox and PlayStation directly, and being the number one choice for kids has obvious advantages in that race. Most homes only have one living room for a PlayStation 5 or Xbox Series X to go in, but multiple people within that home who might want a dedicated mobile gaming screen all to themselves.
If you own a Switch and have young kids, you've experienced this first-hand. One moment they're looking over your shoulder as you glide off mountain tops in The Legend of Zelda: Breath of the Wild and fumbling around with the controls when you go to get a coffee or make lunch. Then before you know it they're terrorizing goblin camps all across Hyrule with an unnerving level of conviction for a four-year old. My oldest used to struggle to jump in Super Mario Odyssey. A year later he's well on his way to grabbing every moon.
What this means is that my Switch is no longer my Switch. It's my family's Switch, aka my son's (don't tell him that). If I want to get time to finish Tears of the Kingdom or dig into Super Mario Bros. Wonder for myself this fall it would be a hell of a lot easier to just buy another Switch. Have you seen how slick the Animal Crossing design is for the new pastel pink and teal Lites? My two kids already fight about everything, and it's only a matter of time before the youngest realizes what he's missing on that seven-inch OLED screen. Bowser seems to know this.
A similar dynamic helped propel the Nintendo DS to being Nintendo's best selling hardware ever. New colors, new models, and the fact that it was more like a personal smartphone than a living room console made upgrades and spares feel practical rather than indulgent and unnecessary. The Switch has an even better library of games and my kids aren't getting any younger.
And honestly why buy a tablet so they can melt their brains on Cocomelon and Disney Sing-Alongs when they could be programming computers inside Minecraft or learning about the cruel ramifications of long-term debt in Animal Crossing? Though I am definitely not buying anymore Nintendo Switches (sorry kids), I wouldn't be surprised if others do. The kids will wear you down. They always do. Business empires and world records were built on less.