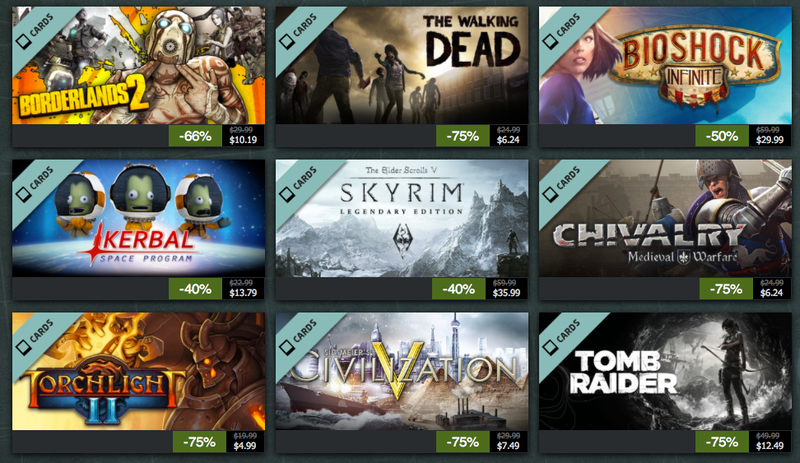 Dealterdämmerung
About the Moneysaver
The Steam Summer Sale is without a doubt the year's most well-known series of discounts on games, but at Kotaku we know you want gaming deals every day. Brought to you by the Commerce Team, the Kotaku Moneysaver posts every day at 2:15pm ET*, bringing you the best, most complete, and easiest to consume coverage around on video games and related products. We cover all the retailers, all the services, and all the accessories. Check it out.
*We're currently posting at 5pm ET during the Steam Summer sale.
Here's the current regular Moneysaver.
Steam Sale Day One | Steam Sale Day Two|Steam Sale Day Three | Steam Sale Day Four| Steam Sale Day 5 | Steam Sale Day 6 |Steam Sale Day 7 | Steam Sale Day 8 | Steam Sale Day 9 | Steam Sale Day 10
---
This is the end. Here's what you should buy that's currently available.
• Civ 5 Brave New World ($21) | Green Man Gaming | Use code GMG30-LY2G6-UKDYY
• The Walking Dead ($6.24) | While it was slightly cheaper when Amazon undercut, this is still within cents of the lowest non-Humble price ever for a game of the year.
• Dishonored ($10.19) | Among the best deals of the sale.
• Kerbal Space Program ($13.74) | Lowest price ever and lots of promise. I predict few sales on this in the near future.
• Torchlight II ($4.99) | At or close to the lowest price ever and tons of value.
• Tomb Raider ($12.49) | Another that was slightly undercut by Amazon and then re-undercut by Steam, but still a ridiculous deal on this game.
• Saints Row The Third: The Full Package ($7.49) | Pretty sure this is the lowest price ever for a ridiculous amount of content.
• Prison Architect ($19.79) | Another case where you're paying for potential, but we like what we see.
• Valve Complete Pack ($34) | Pretty self-explanatory.
• Cart Life ($2) | The 2013 IGF winner for two bucks.
• Ben There, Dan That + Time Gentlemen, Please (49 cents) | It's 49 cents.
• Fallout 3 OR New Vegas Complete Editions ($5/each) | ~100 hours of solid gameplay per game.
• Fallout 1 + 2 ($3) | No need to explain.
• Thomas Was Alone ($2.50) | Great, clever, charming minimalist platformer.
• Rock of Ages ($2) | Very fun, very unique title.
• Super Hexagon ($1) | Super Hexagon for $1.
• To the Moon ($3) | Wonderful little indie worth everyone's time and money.
• Breath of Death VII + Cthulhu Saves the World ($1) | It's a dollar.
---
Keep up with Shane Roberts on Kinja and Twitter. Check out Dealzmodo for more great tech deals, and Deals.Kinja.com for even more discounts.
Join us every weekday at 2:15pm ET for the full Moneysaver roundup, brought to you by the Commerce Team. We're here to bring Kotaku readers the best gaming deals available, and to be clear, we also make money if you buy. We want your feedback.