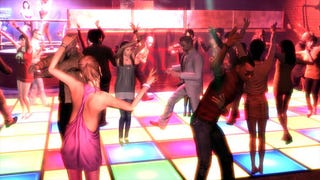 Rockstar Games' second downloadable expansion for Grand Theft Auto IV hits in just a few weeks. The Xbox 360 Achievements for The Ballad of Gay Tony, however, hit today.
A total of 250 new Gamerscore points can be yours upon the release of Grand Theft Auto IV: Episodes from Liberty City or the downloadable episode, which follows the adventures of Luis Lopez, the man employed by the eponymous Gay Tony. If that's all you care to know about the expansion, tread carefully. The full list of Achievements is potentially spoiler-filled.
(Thanks to Philip for the heads up!)
Gone Down - 5
Complete all base jumps.
Diamonds Forever - 5
Complete the Trinity.
Four Play - 10
Hit a flag with a golf ball four times.
Bear Fight - 15
Win the L.C. Cage Fighters championship.
Catch the Bus - 15
Dance perfectly in both Tony's nightclubs.
Snow Queen - 20
Complete 25 drug wars.
Adrenaline Junkie - 25
Freefall for the longest possible time.
Maestro - 30
Finish the Ballad.
Past the Velvet Rope - 45
Score 80% or above in all missions.
Gold Star - 80
Score 100% in all missions.