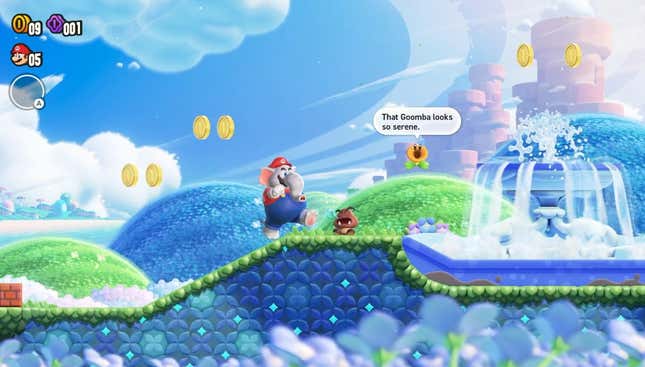 Nintendo has revealed the next major Super Mario game. It's called Super Mario Bros. Wonder and it's a 2D side-scroller with some completely new mechanics, like Mario turning into an elephant. It's coming to Switch on October 20.

What You Should Know About Mario Strikers' Big Free Update
A trailer for the new game during the June 21 Nintendo Direct showed Mario and the gang jumping over Goombas and snagging flags on 2D stages like before, but with new items like the Wonder Flower that makes the "wonders of the world unlock." According to Nintendo, after consuming the power-up, "pipes could come alive, hordes of enemies may appear, characters might change their looks." So basically everyone's about to get real high.
Here's a look at the trailer:
Another power-up turns Mario into an elephant, because sure, why not?! Yoshi will also be playable instead of just carrying Mario on his back. The first new 2D Mario in a decade, Nintendo doesn't use the "New Super Mario Bros." designation, making it unclear if it's treating this like another spin-off in the platforming series or a full-blown successor. There' no online support according to the game's eShop listing, but it will support up to four-player coop locally,

Super Mario Bros. Wonder follows hot on the heels of the box office record-smashing animated movie adaptation and Super Nintendo World theme park openings. Designed by famed Nintendo developer Shigeru Miyamoto over three decades ago, Mario, Bowser, and friends have arguably never been more popular, raising the stakes for the characters' 22nd mainline gaming outing.
Will Super Mario Bros. Wonder be the last new Mario on Switch?
The new game follows Super Mario Odyssey which debuted in 2017, the same year the Switch released. It took the franchise in a more sandbox-y direction, with a neat gameplay gimmick revolving around a hat that let Mario possess creatures in the world around him. After that, the Wii U game Super Mario 3D World got a Switch port with an add-on called Bowser's Fury that sent Mario on an open-world collectathon as an oil-covered Giga Bowser sporadically rained down chaos.
Read More: Every Super Mario Game Ranked From Worst To Best
It's rare for Nintendo to release multiple new mainline Super Mario Bros. games for the same console, but the Switch has lasted longer than many expected, and just recently crossed 125 million lifetime sales. Despite fan clamoring for new hardware in the vein of a Switch Pro or Switch 2, Nintendo told investors earlier this year it was determined to squeeze a little more blood from the existing model.
While some recent exclusives like Pokémon Scarlet and Violet struggled with performance issues and bugs, last month's The Legend of Zelda: Tears of the Kingdom continues to run great, exceeding many fans' expectations of what the aging hardware was capable of. We'll see if the same can be said for the newest Mario game when it finally arrives later in 2023.