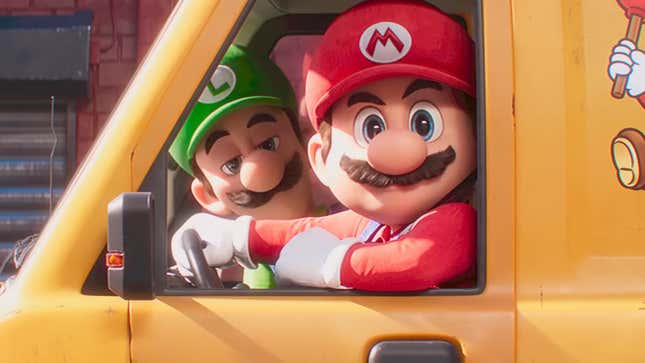 The Super Mario Bros. Movie may be a designer baby that Nintendo and Illumination grew in a lab, but all the aggressive marketing that accompanied the release is clearly paying off. The film hit a new record-setting sales benchmark during the weekend of April 15 and 16 and is expected to surpass $1 billion while it's in theaters. Not too bad for a movie that cast Chris Pratt as its leading man.

What You Should Know About Mario Strikers' Big Free Update
Deadline recently reported that The Super Mario Bros. Movie made $678 million in sales so far, with $330 million coming from the international market. It's currently the number one release in 26 countries, which is a little depressing when I think about how bland it is. But Nintendo's been marketing this movie across an amusement park, Mario Day, and trotting Shigeru Miyamoto out on a highly publicized press tour, plus it's one of the most iconic video game IPs ever, so the numbers aren't much of a surprise.
It's not just me with exacting tastes. Critics panned the film so thoroughly that SMB currently sits at a 58% critics approval rating on Rotten Tomatoes. But the movie netted a 98% audience score despite its lack of cinematic innovation, so maybe IGN's comparisons with Marvel are kind of on the nose.
I'm not a fan of the idea that video games are culturally more successful now that they've made it big on the silver screen. Video games have always been globally influential entertainment, and franchises like Mario don't need box office numbers to prove that. Maybe I'd feel differently if the SMB movie elicited some concrete emotions from me during the runtime, but the entire thing felt like a two-hour ad. Nintendo and Universal Pictures are the real winners here. It's too bad that I'm agnostic to the idea of these behemoths printing even more money than before.
Since the ending of the SMB film teased a possible sequel, I'm hoping that Nintendo loosens the reins and lets Illumination breathe a little bit. Maybe they'll be able to do more with the next movie now that the first one was so commercially successful. Or maybe I'll sit down and have a hundred Mario references thrown into my face per hour once more.