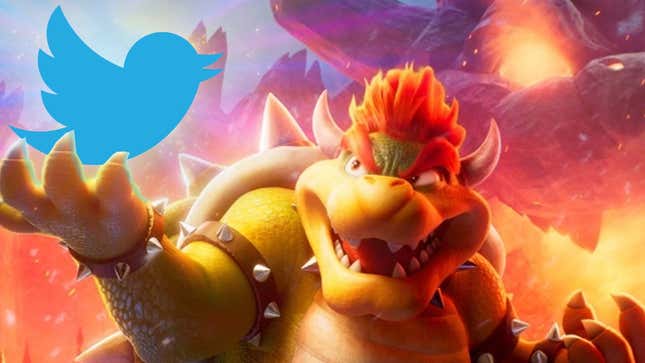 With Twitter struggling since Elon Musk was forced to buy the social media platform in October 2022, folks on the decaying Bird App have taken to posting entire films online thanks to the site's stark lack of content moderation and safety, including the Chris Pratt-led The Super Mario Bros. Movie.
Bayonetta 3's Family-Friendly Naive Angel Mode Would Work Better In Other, Grosser Games
Read More: The Super Mario Bros. Movie Feels Like It Was Designed In A Lab
The Super Mario Bros. Movie has been a massive success for Illumination, Nintendo, and Universal Pictures since its April 5 theatrical release. In the time since it's been out, the film has already raked in $1 billion globally, making it one of the top-grossing movies ever on domestic sales charts, according to Box Office Mojo. While you might get mixed answers about whether it is enjoyable or not to watch, sales suggest that The Super Mario Bros. Movie is, at the very least, one of the most-watched films to come out in recent memory. That's great news, even if Chris Pratt delivered a mid vocal performance.
What's not great news, though, particularly for Nintendo, is how often the entire movie has been tweeted out in parts now that Twitter no longer has its trust and safety compliance team.
Nintendo claps The Super Mario Bros. Movie off Twitter
As The Verge reported, some verified Twitter accounts posted the entire Super Mario Bros. Movie on April 28, with those tweets staying up until at least April 30. That's two whole days of free viewing, even if you're forced to watch it in segments on a tiny phone screen, a far cry from the theater experience. With Twitter Blue subscribers given the option to post longer videos than us non-paying plebs to the burning Bird App, folks with the Blue Check are just tweeting the whole thing split up into a few lengthy clips without any remorse.
Two accounts responsible for doing that have reportedly been suspended for violating Twitter rules. Although the tweets featuring entire movies keep getting pulled offline and you can't watch anymore, folks are still finding the original tweets and retweeting them, while new accounts seem to be determined to keep posting the film.
This isn't the only movie to get tweeted in full recently. The Verge noted that Avatar: The Way of Water has also appeared online. Meanwhile, I was able to find a one-minute video that speeds through the entirety of 2008's Iron Man, which is still on the website at the time of publication. In fact, the Twitter account responsible for posting Iron Man has seemingly threaded a sped-up version of almost every Marvel Cinematic Universe film, including Avengers: Endgame and Black Panther.
Kotaku reached out to Twitter for comment but, as is customary since CEO Elon Musk tweeted on March 23, received merely a poop emoji as an automated reply. Nintendo did not immediately respond to a request for comment.
Read More: Chris Pratt's OG Voice In The Super Mario Bros. Movie Was Too 'New Jersey'
Aside from issuing DMCA takedowns to yeet the film off Twitter, it's unclear exactly what Nintendo intends to do to prevent The Super Mario Bros. Movie from appearing in full online. And it's unclear how many other movies have been laid bare in a similar fashion, especially with Twitter seemingly lacking any sort of content moderation teams to check up on the site's safety.