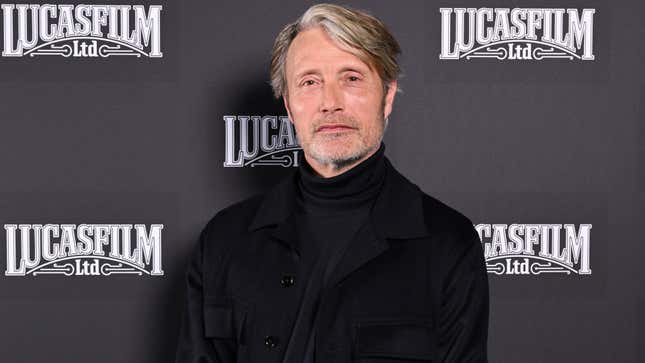 Despite being called the Star Wars Celebration, this past's weekend's event didn't just showcase a bunch of trailers and panels from a galaxy far, far away. The event also hosted a panel for LucasFilm's upcoming Indiana Jones movie, Indiana Jones and the Dial of Destiny starring Harrison Ford. The big bad in the new Jones flick just so happens to be Hideo Kojima's internet boyfriend, Mads Mikkelsen, who appears to be on a quest to portray every villain in pop culture.
The Best Marvel Snap Deck For Winning With Agatha Harkness
Read More: The 6 Biggest Announcements From Star Wars Celebration (So Far!)
In the upcoming fifth Indiana Jones feature Mikkelsen plays a Nazi officer named Jürgen Voller, who wishes to use the movie's mysterious McGuffin to "make the world a much better place to live in." Going off of what we've seen from trailers, Voller's noble pursuit isn't up to code with Jones' Nazi-punching standards.
While Mikkelsen has made a career of portraying badass heroes like Galen Erso in Star Wars: Rogue One and anti-heroes like Duncan Vizla in Polar, the Danish actor is most famous for playing bad guys. Outside of playing Voller in Indiana 5, Mikkelsen's most notable villainous roles include:
Le Chiffre in Casino Royale (the best Daniel Craig-era James Bond film, don't @ me)
The Accountant in Rihanna: Bitch Better Have My Money (yes, it counts)
Dr. Hannibal Lecter in Hannibal (people who want him to step on them tell me it's good)
Kaecilius in Doctor Strange (forgettable, tbh)
Gellert Grindelwald in Fantastic Beasts: The Secrets of Dumbledore (you know why)
Read More: 8 Things From The Ahsoka Trailer That Got Us Hyped TF Up
When asked why he loves portraying villains so much during an interview with IGN, Mikkelsen responded by simply saying he does so because "they love me." And before you ask, Mikkelsen's role as Clifford Unger in Hideo Kojima's Death Stranding does not count as a villain role as far as Mikkelsen is concerned.

"First of all, I'm not the villain in this game. I always try to make my villains heroes, to try to see the world from his perspective. That's important, that you justify him somehow, or at least humanize him to the degree that you can recognize what his motives are," Mikkelsen told GQ in a 2019 interview. "[For Death Stranding], we just approached it as a man in a certain situation. There are different reasons for the way [Cliff] is acting out the way he is. He's fighting for his life, or his child's life. And that's how I approached it from the very beginning."

Keeping pop culture villainy in the family name
During the Star Wars Celebration, we also learned that Mikkelsen's brother, Lars, will star as Grand Admiral Thrawn in the Star Wars spin-off, Ahsoka. It would appear acting evil is a part of the Mikkelsen family business.

Indiana Jones and the Dial of Destiny comes to theaters on June 30.