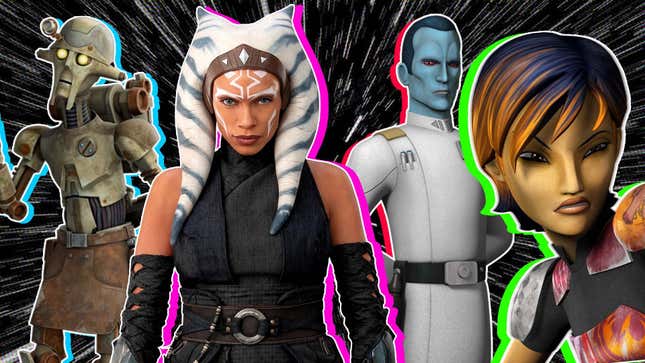 Star Wars: Clone Wars and Rebels fans, rise up. We've been waiting a long time to be properly fed, and with the latest news and trailers coming out of Star Wars Celebration, we're finally getting a good look at the Rosario Dawson-led Ahsoka series.

Read More: Daisy Ridley Returns As Rey In Star Wars Movie Where She Rebuilds Jedi Order
Ahsoka stars Dawson as former-Jedi-turned-outcast Ahsoka Tano, Mary Elizabeth Winstead (Birds of Prey) as Twi'lek pilot Hera Syndulla, and Natasha Liu Bordizzo (Day Shift) as Mandalorian warrior Sabine Wren. The highly anticipated series will not only center some of the most iconic Star Wars women, but will take them on a journey to the furthest reaches of the galaxy. They'll be searching for Rebels character Ezra Bridger (Eman Esfandi), who, when he was last seen in the animated series, took himself and the evil Admiral Thrawn to some unknown corner of space via hyperspace whales.
Read More: The 10 Best Star Wars Games Ever Made
Naturally, the trailer is full of references and nods to things that Rebels and Clone Wars fans will get hyped about, but it's also just a good trailer full of great lightsaber battles, gorgeous vistas, and cute creatures. It got me even more amped for the series to debut this August. Here are eight things from the Ahsoka trailer that have the Kotaku team more riled up than the crowd at a jizz concert.