After Neil Patrick Harris' cringe-inducing job hosting the Video Game Awards last week, we asked you to 'Shop him into video games even more awkwardly. A record 800 submissions followed. See who made the cut!
[Update] With remorse, goodwill and in a spirit of reconcilliation, more than two years later I am adding in Azureguy's shop of NPH as Spy, explaining "How I Met Your Mother," (to Scout; very well done) I have no idea how or why I overlooked this one so long ago. Azureguy, you have my sincere regrets. I hope this makes up for it. Thanks for staying with us all this time.
Here's the image:
Original post follows. Man, it is weird editing this thing two years later.
We got plenty of Legendary and NPH-as-TF2 Medic ideas. AgentRayBans (2) had the best of the latter and drohung (8) supplied the best of the former. TheAlp (18) had an even more novel TF2 idea, which worked for me.
G/O Media may get a commission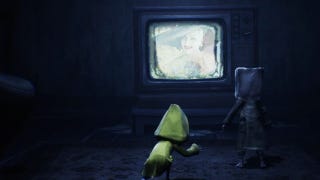 Horror Video Games to Play Leading Up to Halloween
Spooky and scary
Something video games have over their film counterparts when it comes to horror is the player's agency. Sure, watching the slasher claim their next victim can get a jumpscare out of you, but you know what's scarier? Knowing you had the power to stop it. Watching someone slowly open a door and enter a dark room is unnerving, but having to do it yourself will send shivers down your spine and paralyze you with fear.
Duck45 (9) gilligan156 (10), Gofunaki (11) and Toribor (19) all deserve a mention; Nava707 (15), LagunaVII (14) and a316sob (1) provided the best of the cover mashups. artisttheone (4) Koda89 (13) and WillHandford (20) made great use of the same photograph.
There are two here that are so, so lazy they don't deserve to make the finals, but are so, so funny I couldn't kick them out. That would be strikephoenix's hilarious Angry Birds quickie (21) and McGibby (22), finding the perfect face to 'shop onto Asshole Dog. If only he'd taken care of the ears first.
My favorite? WillHandford's (20). Thanks to all who participated. Take a bow everyone.
a316sob

AgentRayBans

Agriem

artisttheone

ARYXANDRE

Diesel

dracosummoner

drohung

Duck45

gilligan156

Gofunaki22

KillMurderSuicide

KillMurderSuicide

LagunaVII

Nava707

StoneGold

TacDroi

TheAlp

Toribor

WillHandford

strikephoenix

McGibby