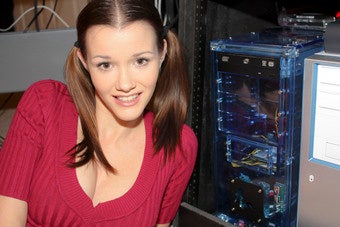 That would be Terrorism and Alexis. Modern Warfare 2 stirred up plenty of controversy, and then came Crecente's interview of gamer pornstar Raven Alexis. Afterwards, we still found room for more than 60 original headlines over the past week.
Top Stories
Games, Not Porn, is Adult Actress' Secret Pleasure
Modern Warfare 2 Features Skippable Scene of Atrocities
News
Bayonetta Xbox 360 Selling Out?
But PlayStation Home Is A Priority Now, Says SCEA Exec
Iwata: DSi XL Not Just For Seniors, It's For Watching Others Play Too
Our Tour Of Halo Waypoint, Including Surprise Avatar Awards
No Other Platforms Planned For Disney Epic Mickey... Anymore
Kotaku's Denver Fundraiser: Silent Auction Items
Here Are Your Uncharted 2: Among Thieves Fortune Hunter Edition Finalists
So, Shigeru Miyamoto Got A Cat
PS3 Sales Up, PSP Sales, PS2 Sales Down
Wii And DS Games From Non-Nintendo Companies
Xbox LIVE Features Kratos Head, It Seems
Nintendo Announces Its Upcoming Wii Games
Nintendo Announces Its Upcoming Nintendo DS Games
DSi XL Coming To America in Early 2010
Disney Considering Movie, Comics for Epic Mickey
Nintendo DS Sales Reach 113 Million, Wii Sales 56 Million
Nintendo Profits Plunge
How Does The DSi LL Compare To The DSi And DS Lite
First Look At New DSi Colors
Today's Pumpkin Post Brought To You By Cuteness
Resident Evil, Defaced With Lego
Spector Tells Us How Disney Epic Mickey Will Challenge Gamers
Left 4 Dead 2 Getting Avatar Awards? [Update]
Left 4 Dead 2 Demo Out Now On Xbox 360
New Super Mario Bros. Wii Dated For North America
Netflix On PS3 Getting Embedded Solution "Late Next Year"
The Mark Of A DJ Hero Player: One Gamer Point
Microsoft: Football Toss Is Not A Prototype For Xbox Live Adver-Gaming
BioWare Reveals Dragon Age's "Massively Single-Player" Details
Hands On With Garters & Ghouls
New Xbox/PS3 Madden Was Born On The Wii
Mecho Wars Team Working on SteamPirates For iPhone, PSP
Extra Life Raises $150,000 And Counting
Modern Warfare 2's Third Person Mode Is No Rumor
Kotaku's Denver Fundraiser: Why You Should Come
Surprise Football Game Pops Up On Xbox Live
Win One of Five Copies of Uncharted 2: Among Thieves Fortune Hunter Edition
iPhone Chart Toppers: Rock Band
The World Ends With Batman, Brando And The Spy
DJ Hero Launch Party Turntable Swag
Capcom's New York Fight Club In Motion
iPhone Game Sells Extra Lives Through In-App Store
Video Game Speakeasy Slips Into Soho for a Night of Raucous Fun
Reviews, Previews, Impressions and Hands-On
LostWinds: Winter of the Melodias Micro Review: A Pleasant Gust of Fun
Dawn of War II: Chaos Rising Preview: The Darker Side Of Dawn
Frankenreview: Tekken 6
MAG Preview: Come Back Here With My Tank!
Saw Review: Do You Want to Play This Game?
Tekken 6 Review: The Lag of Iron Fist
A Peek At Bioshock 2: Where Good Ideas Turn Monstrous
Prince of Persia Trailer Impressions - Please, Ben Kingsley, Don't Mess This Up
Dementium II Preview: A Mature DS Game With "Hell Moments"
Hands-On With Ace Combat Xi
GTA: The Ballad Of Gay Tony Review: Out With A Bang
DJ Hero Review: You Spin Me Right Round
Forza Motorsport 3 Review: Definitively Maybe
Rock Band Micro Review: iPhone Joins the Band.
Frankenreview: Ratchet & Clank: A Crack In Time
Avatar Wii Preview: Environmentalism Commando
Dungeon Hunter Review: Pocketful of Diablo
Columns
Notebook Dump: My First DSi-Only Cartridge, Gears And More
Well Played: Can Bigger Screens Save a Shrinking Market?
Old News '01: "Star Fox Adventures... Should Keep Adventure Enthusiasts More Than Happy"
Features
In Praise Of Hard Games
I Can Kick Your Butt, Wanna Bet?