The unbridled success of Guitar Hero, Rock Band and the Wii are spurring game developers to look at new ways to control games.
This year developers unveiled games that have players using a faux turntable to pretend to be a DJ and another that has them ride a plastic skateboard in a new Tony Hawk game. And both Microsoft and Sony are rumored to be working on motion controls for their consoles.
"Peripherals can make the experience of playing video games even more immersive," said Denise Kaigler, Nintendo of America's vice president of corporate affairs. "Instead of simply pressing buttons to control the action, players feel like they are inside the game itself."
Over the past few years Nintendo has introduced plenty of peripherals, from the Wii Wheel to the Wii Zapper and Balance Board.
"All of these peripherals have helped make video games more accessible to new players while providing new challenges for veteran players," Kaigler said.
G/O Media may get a commission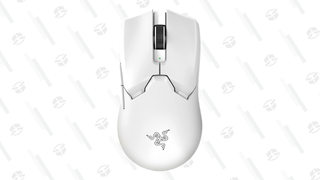 15% Off
Razer Viper V2 HyperSpeed Wireless Gaming Mouse
Pro gaming
ses a focus pro 30k optical sensor for unreal accuracy, is only 59g which puts little-to-no pressure on your wrists and allows for faster response times and longer sessions, has switches that last for 90 million clicks, has an absurdly fast wireless connection, and a battery life of up to 80 hours.
This holiday ten-year-old skating franchise Tony Hawk will get an overhaul with motion controls of its own.
Gamers will play Tony Hawk: Ride on the Playstation 3, Wii or Xbox 360 by standing on a plastic skateboard and rocking back and forth as if they were on the real thing. No other controller is necessary.
"This is the game I've always wanted to make," said Tony Hawk, who has been directly involved with development of the project. "Playing on the board is unlike any other game, and I'm excited for everyone to have the chance to feel what it's really like to experience the true feeling of skateboarding."
The wireless board gamers stand on features two accelerometers and four motion sensors, located on the front, back and sides of the board. The bottom of the board is curved on the sides, front and back to make it easier to rock, but still flat on the very bottom so players don't need to balance when not turning.
Josh Tsui, president of Tony Hawk: Ride developer Robomodo , said the idea for the game was inspired by arcade games like Top Skater that had similar real board controls.
"We came from an arcade background and we felt that if we could bring the arcade experience to the home and do it cheaply, and safely it would be a home run," he said in a phone interview.
But, he added, it was games like Guitar Hero that allowed developers to start experimenting with new controllers.
"It opened the doors for people who aren't into games as much," he said. "I know a lot of people who play Guitar Hero who didn't play video games that much. They didn't want to figure out the controls."
The same was true for most arcade games, Tsui points out, the barrier for playing a game in an arcade was much lower than with typical modern console games.
"I don't like having to relearn a control mechanic for every game that comes out," he said.
Ride will feature three difficulty setting. When you are playing at the hardest setting it is targeted toward the hardcore gamer, there is a lot of motion, Tsui said.
Players will have to wave their hands or feet over the sensors to do tricks. The easier difficulties are more geared toward novice gamers.
The team at Robomodo have been working on the game for about a year and a half, he said. And now that they've gotten the sensors in the three-and-a-half pound board tuned, they're looking at how it may be used for future non-skateboarding games.
"We started out with skateboarding because it's easy to understand," he said. "But there are a lot of games we realize could be used on the board. We were surprised at some of the ideas we listed out ."
Now the team has a "huge list" of potential future games for the board.
And that will be key to Ride's success, said Wedbush Morgan Securities analyst Michael Pachter.
"I think the problem with all peripherals is that you have to make them reusable," he said. "They must be acceptable to be used with more than the original game."
Well Played is a weekly opinion column about the big news of the week in the gaming industry and its bigger impact on things to come. Feel free to join in the discussion.