Here we go again. Kenny Irwin is a self-styled "professional microwaver," who has melted down, let's see, a Nintendo 2DS, a Wii U, a 3DS, and an Xbox 360. Think he'll take on the PlayStation 4? Of course he will. For art!
He's very careful to say this is a "non working" PlayStation 4 but I think that is apparent at around 2:40 in the above video, when the thing catches on fire. Otherwise, yes, that would be one hellacious casemod.
Irwin's masterpieces have sold before—the nuked Wii U went for $3,490.03. He's asking $11,151.30 (well, that's the buy-it-now price.) It's received two bids, one declined.
Sure, there's a lot of day-one PS4 torture porn out there, but smashing one on a sidewalk at a camp-out event is laughably inane compared to the visceral enjoyment of watching a PS4 burn up, or getting the coltan shot out of it by a .50 cal. round.
G/O Media may get a commission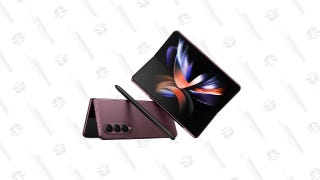 Save Up to $300
Galaxy Z Fold4
So. One minute, forty-four seconds (roughly). That's the time to beat, Xbox One, because for sure you are getting it next.
To contact the author of this post, write to owen@kotaku.com or find him on Twitter @owengood.