Turns out that Rango the video game could be as good as last year's Toy Story 3.
I loved Toy Story 3, but more importantly Tristan loved it and he's the one saying Rango could be better. I'll be checking it out tonight probably.
Totally unrelated, how weird is it that THQ sent me two remote control quadracopters in the mail? So weird, even if a form of them appear in Homefront.
G/O Media may get a commission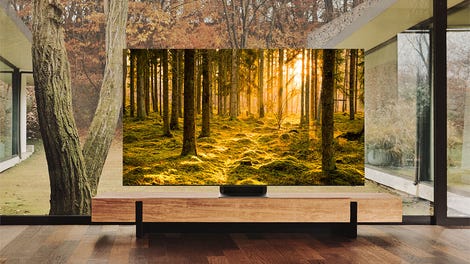 Up to 40% off
Samsung Smart TVs
The future of gaming is more than 60 years old. Back in the 1950s, researchers started playing around with a technology that would allow them to store data in a form of memory that had no moving parts. More »
---
What is Nidhogg? It's an orange man vs. a yellow man. It's a fencing football game. It's about dragons and it's the winner of the 2011 Nuovo Award, which means its great at being experimental/artsy/peculiar More »
---
The second Silent Hill movie-based on the third video game-is now filming, with the newly revealed Adelaide Clemens taking on the role of Heather Mason, the playable teenage daughter of Harry Mason from Silent Hill 3. Silent Hill: More »
---
Batman can't fly. Not in the comics. Not in the movies. Not even in the upcoming video game Batman Arkham City, despite what you might infer from some of the game's screenshots. The Dark Knight of Arkham City nevertheless seems like a more powerful Batman than the one we last played in Batman... More »
---
Bringing together a party of four diverse fantasy adventures on the field of battle has never been quite as touching as it is in Mika Mobile's Battleheart for the iPhone, iPod Touch, and iPad. More »
---
You can't make a first-person shooter without a story driving it. Gone, it seems, are the days of Battlefield games that are just that: A virtual battlefield. That doesn't mean that Battlefield 3 will be any less a Battlefield game, just that it won't just focus on the multiplayer gaming that made... More »
---
Aspiring writers: Kotaku is bringing in another round of editorial interns! Do you… • Live in the New York City metro area? • Are you over 18? More »
---
As the world continues its love affair with Watson. the Jeopardy champion computer, The New York Times creates a simple online game that demonstrates how an artificial intelligence can outsmart a human at a slightly simpler game. More »
---
After seeing countless teaser trailers and bits of concept art of American McGee's Alice: Madness Returns, how does the gameplay footage stack up? It's even better. More »
---
We like tips!
Got tips for our editors? Want to show the world your latest creation? Ready to anonymously share an unannounced game? Email us at tips@kotaku.com.
Lost in our new layout?
Click here for the Speak Up or Tips forums. Want a more "blog-like" look? Click the button up top next to "Top Stories."
Get more Kotaku!
Want even more Kotaku? Want to know which of your friends read us? "Like" us on Facebook and follow us on Twitter.