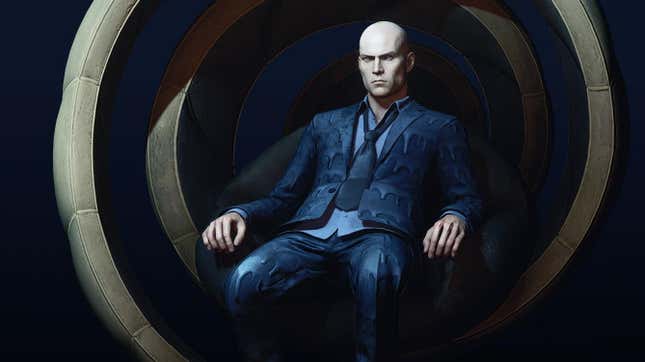 If you thought Hitman 3's DLC and level importing couldn't get any more confusing, well, buckle up. IO Interactive announced on Tuesday that later this month Hitman 1, 2 and 3 will fuse together into one Hitman to rule them all called Hitman World of Assassination. But there will still be different versions and multiple DLC packs.you can buy

A Foe From The Next Team Ninja Game Is Giving Me Sekiro PTSD
Here's how IO Interactive explains it in a new blog post:
As of 26 January 2023, the following changes are planned to come into effect.

Hitman 3 will become 'Hitman World of Assassination', which will also include access to Hitman 1 and Hitman 2 through our existing Access Pass system. Current Hitman 3 owners will get a free upgrade to Hitman World of Assassination on all platforms.
We're drastically simplifying the purchase experience for new players. Hitman World of Assassination will be the single available option to start playing.
Make sense? I didn't think so.
Basically, anyone who owns Hitman 3 by January 26 will automatically get access to Hitman 1 and 2 as well for free, whether they previously purchased them or not. Anyone who hasn't yet bought Hitman 3 will only have two purchase options moving forward: World of Assassination ($70) and World of Assassination Deluxe Pack DLC ($30). The idea is to get rid of the six different versions you can currently buy on Steam, not including the 12 individual DLC add-ons, and make sure all players are operating from a mostly similar set of stages, particularly for the freelancer game mode.
This is the natural end state of IO Interactive's attempt to coral all of the Hitman content from multi-year episodic releases and sequels into one live service platform. But it also means Hitman 1 and 2 will no longer be available for sale individually, and not all of the DLC is included in the January 26 jump to World of Assassination. The $30 Deluxe Pack, which includes the Hitman 3 Deluxe Pack, Hitman 3 Seven Deadly Sins Collection, and Hitman 2 Expansion Access Pass, will still be extra and separate, with players paying $10 for each piece they don't already own.
Long story short: if you haven't hopped on the Hitman 3 train yet, now's a good time. The game, one of 2021's best, is only $21 on Steam for the next couple days, while on the PlayStation Store the Deluxe Edition is just $28. There's no sale on Xbox right now, though the trilogy is on Game Pass. And unfortunately the cloud version of Hitman 3 on Switch just ain't that great.
It's not clear what's next for the Hitman franchise since IO Interactive is also currently hard at work on a new James Bond game. Whatever happens with Agent 47 in the future, hopefully it won't require half a dozen blog posts to explain how to buy it.