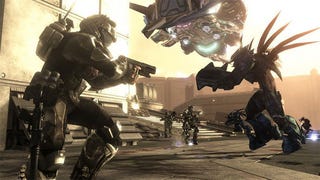 There have been lots of assumptions that Borderlands and Brothers In Arms developer Gearbox Software was hard at work on a Halo game for Microsoft. That's partly based on things Gearbox has said, partly on things it didn't say.
Microsoft has put the kibosh on that speculation, via the Halo Waypoint Twitter account today.
"For the record, Gearbox is NOT working on a Halo title for Microsoft," reads today's update, a rather to the point denial that leaves little to interpretation. The only wiggle room there is that Gearbox would be working on a Halo title for someone other than Microsoft. And that makes pretty much zero sense.
Seems like that Gearbox developed Halo speculation started when the company's president, Randy Pitchford, wrote of a "huge" project, not long after it was announced that Bungie was separating itself from Microsoft.
That never revealed project that may have actually been its aborted Duke Nukem game.
Gearbox certainly has a lot on its plate right now. It's about to launch Borderlands, is still working on Aliens: Colonial Marines for Sega and may have a War Hero franchise about to kick off. But Halo? Sure doesn't sound like it.
HaloWaypoint [Twitter]